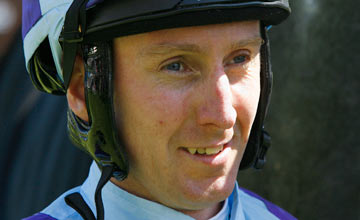 Martin Dwyer: has 72 hours to appeal eight-month ban
PICTURE:
Mark Cranham (racingpost.com/photos)
Struthers pledges full support of PJA for Dwyer
PAUL STRUTHERS on Tuesday pledged that the Professional Jockeys Association will lend its full support in helping Martin Dwyer to appeal his eight-month ban imposed by the Royal Western India Turf Club.

Dwyer was shocked to learn on Monday that his appeal against an original 56-day ban incurred in February resulted in it being increased to eight months, which if enforced would leave him out of action from August 31 to April 30, 2014.
Dwyer had appealed the suspension given by the stewards for not allowing favourite Ice Age to run on its merits at Mahalaxmi.

Struthers said: "It is surprising and disappointing. In our view the video of the race spoke for itself, so when the news came through we were staggered.

"It was effectively a rehearing, but the bottom line was as far as we are aware there was no new evidence so they were going solely by the video. At worst Martin was guilty of careless, reckless or dangerous riding. Our support for him remains and is unqualified.
"We have been speaking to him for a long time about this so we are already in a position to make an application to the BHA asking them not to reciprocate should his appeal to the appeal board in India be unsuccessful."
"He has a 72-hour window to appeal in India and I know his spokesman is waiting for the written reasons for the decision. We think the 72 hours is from the day of the decision so he's got until Thursday, he'll definitely get an appeal in. It's vital as he has to exhaust his options in India in order to make an application to the BHA.
"When he exhausts his options in India he has 48 hours to make an application to the BHA and we're a long way advanced in being able to get that in."

With such decisions based on fairness and being reached reasonably, Struthers thinks the sizeable increase in the ban could help Dwyer.

"Ironically I suspect this latest decision, increasing it from 56 days to eight months might increase his chances with any application to the BHA," he said. "I don't think you'd ever want to be confident in any such application, particularly after what happened with Richard Hughes, but you'd be hopeful."

The race at Mahalaxmi in Mumbai on February 17 made headlines around the world after Dwyer reportedly had to be rescued by security guards as angry racegoers protested at his riding of Ice Age, the 6-4 favourite, who finished third.

Head-on pictures showed Dwyer's mount veering to the right in the closing stages and colliding with a rival, after which Dwyer pulled his mount away. When he began to ride out Ice Age in the final strides, the filly hung right again with Dwyer reporting her to have bled during the race.

Several trainers have taken to Twitter to support Dwyer, calling for the BHA not to reciprocate the ban.

Struthers added: "It's a horrible thing for him and his family to be going through, not only with it hanging over him but also the slur on his name. I know he's very appreciative of the support he's getting and it does mean a lot to him at a difficult time."
The BHA tweeted a statement on Tuesday afternoon, saying: "BHA are yet to hear from RWITC with any details of the suspension imposed.
"Under Rules a rider suspended overseas can apply to BHA not to reciprocate. Such applications are considered by the disciplinary panel.
"Such an application can only be made once all avenues of appeal available in the overseas jurisdiction have been exhausted.
"BHA have contacted Martin Dwyer and are monitoring the issue, as well as having sought full reasons for the decision.
"Until BHA are in possession of full reasons and any appeal process has been completed it would not be appropriate to comment further."