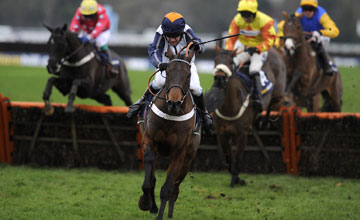 Bohan suffered a heavy kick to the back at Kempton (above) on Saturday
PICTURE:
Getty Images
Bohan in hospital with suspected back injury

JOCKEY Paul Bohan remains in hospital following a fall at Kempton on Saturday, when he suffered a heavy kick to the back.
The conditional rider was riding Laterly in a handicap hurdle for his employer Steve Gollings when it fell at the fourth flight. Bohan received lengthy treatment at the track before being taken by ambulance to St Peter's hospital in Chertsey.
Gollings said on Sunday: "I was speaking to the hospital and family through the evening and it appeared at first that he took a severe kick to his back during the fall and the general consensus was there was some form of back injury.
"I don't want to elaborate on that as last night they were waiting on an orthopaedic team to assess him. That was going to be done last night but to my frustration it wasn't - typically for this country, don't get ill at the weekend because there's no experts available.
"We thought that would now be done today but I have since been told that won't be done until tomorrow [Monday]. Clearly, I guess, there is not a massive urgency or they would be kicking on with it, I hope.
"I know for a fact that very briefly his family have spoken to him on the telephone and I will be speaking to him today. Everything is good, he is coherent, and we will just keep our fingers crossed that the injury is not a serious one.
"Laterly also took a hefty fall and although he is a little bit shaken and has a little bit of hair missing off his forelegs, particularly on his upper limbs, he is sound and okay."
Bohan has partnered eight winners from 41 rides in Britain, including two Listed hurdle successes on the Gollings-trained Local Hero during the summer.