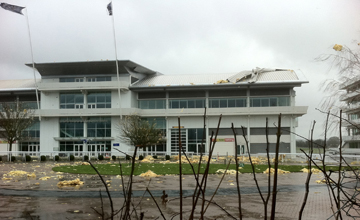 Trainer Jim Boyle tweeted a picture of the damage to the Epsom roof
PICTURE:
@jimboyle17 twitter pic
Epsom staff evacuated as roof blows off stand
POLICE sealed off roads to Epsom Downs on Tuesday morning and racecourse staff were evacuated after strong winds ripped off part of the grandstand roof.
The roof of the Duchess stand, which was opened in April 2009 as part of a £38 million development, was torn off by winds which, according to the Met Office, were gusting at up to 44mph.
The surrounding area was strewn with insulating material blown from the roof, which resulted in trainers in the town deciding not to exercise their horses.
Racecourse spokesman Johnno Spence said: "Following severe weather conditions and turbulent winds at Epsom Downs racecourse this morning, the Duchess Stand roof has been damaged.
"There were no injuries to anyone but as a result and after liaising with the emergency services, the racecourse has been evacuated and all non-essential members of staff sent home. The emergency services are on site and are monitoring the situation."
Local trainer Jim Boyle, who was on the rain-lashed Downs posted a picture of the damage to the grandstand on his Twitter account.
He said: "I didn't see it happen but our string rode past soon after it had happened and there was already debris starting to fly around so I decided to cancel third lot.
"Some of the roads are closed, I would guess for health and safety as there is a bit of foam around from the two-layered roof."