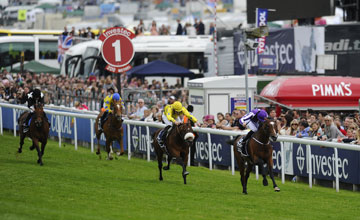 Tom O'Brien said St Nicholas Abbey (right) is: "doing everything that is required to give himself the best possible chance of making a recovery"
PICTURE:
Getty Images
St Nicholas beginning to show signs of recovery

TOM O'BRIEN, the surgeon at Fethard Equine Hospital overseeing St Nicholas Abbey's recovery, has revealed the Coolmore stallion is beginning to show signs of recovery from his recent laminitis scare.
Since the initial surgery to deal with the career-ending, and potentially life-threatening, pastern fracture he sustained in July St Nicholas Abbey has been faced with, and overcome, a number of complications.
Firstly the six-time Group 1 winner was struck by colic, then there was a further complication when the pin in his cannonbone that was supporting his weight broke, and most recently he has been inflicted by laminitis - an inflammation of sensitive layers of tissue inside the hoof.
Dr Tom O'Brien, based at Fethard Equine Hospital in Tipperary, said on The Morning Line: "Laminitis is often a life-threatening disease, this is a troublesome situation and one that is hard to deal with."
However, recently there have been positive signs. "What we've been monitoring his foot for very closely is to see if there is new hoof growth and now we're seeing it," said O'Brien. "Where the hair meets the hoof we are seeing a couple of millimetres of new hoof beginning to grow, and also on his sole.
"We are happy with how he is doing, his general daily routine involves him lying down a lot, he gets up for periods any time he wants to eat and we're taking him for short walks to help strengthen the right front while also increasing the blood supply going to the left. In addition to that he is having a number of physiotherapy periods each day.
"He's an incredible horse to deal with on a daily basis, he's an intelligent horse and manages himself very well. Ever since he came in with the original injury he's been faced with a number of challenges. He's smart, he knows what's required of him if he is to stand a chance of beating the odds and he's doing everything that is required of him to give himself the best possible chance of making a recovery."
Detailing the treatment that has aided St Nicholas Abbey's recovery, O'Brien added: "We used maggot therapy, so we got medical grade maggots and enclosed them in the foot cast. By putting them in there they eat all the dead and infected tissue, they eat it all and the change that has happened since doing that has been quite remarkable."