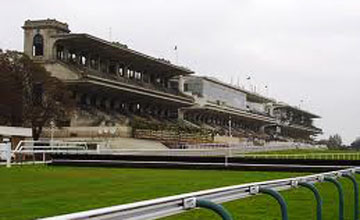 Auteuil: Rhialco was a comfortable and a half length winner
Clayeux cool on Rhialco despite easy success
Report: France, Wednesday
Auteuil: Prix William Head (Listed Chase) 2m7½f, 5yo+
RHIALCO (Emmanuel Clayeux/Jonathan Plouganou) survived a serious mistake at the Auteuil's fearsome Judge de Paix open ditch to run out a comfortable three and a half length winner over Polidam.
The race was billed as a relatively simple task for Rhialco en route to next month's Grand Prix de Paris.
But while Plouganou described the classy nine-year-old's jumping as "impeccable" save for the one error, his trainer was far from thrilled with the performance.
"He wasn't his usual self and his jumping was timid," said Clayeux, who has overseen a remarkable comeback for Rhialco since he suffered a serious fall at Auteuil in October 2012.
"I didn't particularly train him for today and he wasn't completely tuned-up but, he was as fit as he was last time and I would have liked to see him dominate his rivals."
Clayeux wouldn't commit Rhialco to the Grand Steeple-Chase and said that his future programme would be governed by how he recovered from his exertions.
The Allier-based handler had opted for this race rather than take on the likes of Shannon Rock and Storm Of Saintly in the Group 3 Prix Ingre on Saturday.
Despite having plenty of ground to make up on his rivals following the mistake half way down the back straight, Plouganou soon had the son of Dom Alco back on an even keel and he was able to jump to the front at the final fence.
"He's still getting used to going back over the outside track here and he dragged his hind legs through the rail-ditch but, overall, I think he still had a pretty easy race," said Plouganou.
Also on Wednesday
Auteuil
Yellow Ball may not have cut much ice in last Sunday's Pris du President de la Republique but Venetia Williams enjoyed better luck with her second runner of the week in Paris, as Upepito finished second to favourite Tornade Precieuse in the 2m2½f chase.
David Cottin made most of the running aboard Upepito, who was making only his third start for since returning from 16 months off the track, during which time he joined Williams from Guillaume Macaire.