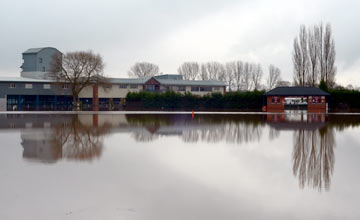 Southwell: has flooded for the second time in a month
PICTURE:
PA
Southwell comeback on hold after floods
SOUTHWELL racecourse has flooded for the second time in a month, forcing the abandonment of the jumps meeting on January 3 supposed to herald a return to action at the Nottinghamshire track.
Buildings have been flooded after the River Trent burst its banks following what clerk of the course Roderick Duncan described as "24 hours of non-stop rain".
The January 3 meeting was meant to be the launchpad for Southwell to resume racing after being forced to forfeit all its racing action, including all-weather Flat fixtures, since the end of last month.
"It's heartbreaking and very distressing for everyone involved, everyone who has worked so hard to get the course up and running again," said Duncan on Saturday as he surveyed the lapping waters.
"The course inspectorate was here on Thursday and had okayed it for us to race on January 3. But then the rains came again, the River Trent burst its banks, three local villages were flooded and so were we.
"We had sandbags in place to protect the most vulnerable areas, which worked for a while, but the water kept rising and came up above them.
"The problem is our streams and dykes can't withstand the volume of water, especially when the Trent is at high tide. It was two-feet deep in the car park and there is water across the whole site, including into the buildings and the weighing room. And it's still raining."
Severe flooding last month caused substantial damage to buildings, including the weighing room, and to the all-weather surface, forcing officials to scrap Flat fixtures at the course until February.
Southwell has another jumps meeting scheduled on January 21, but Duncan is unable to make any predictions. He said: "At the moment, it's just a question of waiting for it to stop raining to see just how bad the flooding is."