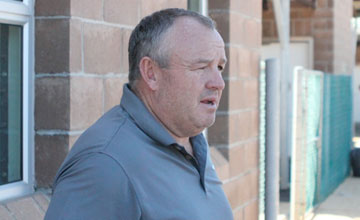 Mike de Kock has been forced to make early arrangements for his stars
PICTURE:
Liesl King/ThoroughbredNEWS.com.au
De Kock stars to begin lengthy journey to Dubai
South Africa: Mike de Kock has decided that he can afford to wait no longer with some of his South African stars, including Horse of the Year Igugu, and they will begin a lengthy and circuitous journey to Dubai via the Cape Town quarantine station on May 6.
After 19 days there, they will spend 90 days in Mauritius. They will then have to spend a further 30 days in quarantine in Britain before they can be flown to Dubai.
Recent equine exports from South Africa have been banned by outbreaks of African Horse Sickness and, although one ban is due to be lifted on May 3, EU legislation prevents exports direct to Europe for a further 12 months.
De Kock said on his website on Friday: "For Igugu and others to be able to compete internationally at the end of the year and next yearin Dubai, we have no choice but to make early arrangements to get them out of the country as soon as we can.
"It's ridiculous but we cannot take the chance of waiting until after the Durban July [won last year by Igugu]."
The export party also includes last season's dual Grade 1 winner The Apache (due to run in Hong Kong in December) and a number of good horses owned by Hamdan Al Maktoum, including Soft Falling Rain, Istiqraar, Mushreq, Jet Legend and Royal Ridge.
De Kock did not enter Igugu for the Vodacom Durban July, but he still has 22 horses in South Africa's greatest race on July 7.