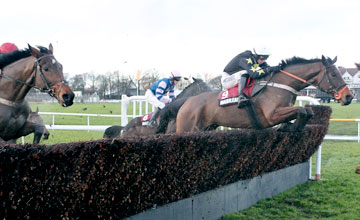 Haydock: will inspect again on Friday at 8.30am
PICTURE:
John Grossick (racingpost.com/photos)
Snow threatens Haydock card on Saturday
HAYDOCK will inspect again on Friday for Saturday's meeting as the course continues its battle against the elements, with the threat of snow now looming large.
Following an inspection on Thursday morning, the course was declared raceable by clerk of the course Kirkland Tellwright, but due to the forecast another inspection is scheduled for 8.30am on Friday.
Tellwright said: "We are fit to race at the moment by the skin of our teeth. It is forecast to be -3C for the next two nights but there is a clear risk of snow from Friday afternoon.
"If we arrive at the point where we're not fit we'll abandon, but at the moment the only sensible course of action is to continue the process."
Musselburgh's fixture on Friday became the latest casualty of the big freeze, with the meeting abandoned following an inspection at 8am.
Clerk of the course Harriet Graham said: "It was -1C last night and temperatures are not expected to get above 2C today. The bits of the course that are frozen are solid, and there is snow forecast tomorrow so there's no chance of racing."
Towcester's meeting on Sunday has also been abandoned with the track frozen, while Chepstow's meeting on Friday is subject to an inspection at 8am on the morning of racing.

Conditions have improved at Chepstow, but the threat of snow and frost means the meeting is still in doubt. Clerk of the course Keith Ottesen said: "We are still slightly frozen but not far off racing.

"Hopefully it will not be freezing overnight, but we could get up to ten centimetres of snow on Friday, and it would only take two centimetres for the meeting to be off."
There was better news at Wincanton, with this afternoon's meeting on following an early morning check. The going is soft, heavy in places, and clerk of the course Barry Johnson said: "It was -2C last night and the frost covers have done their job. We will leave them down till 9am and then temperatures are forecast to be 3C with some sleety showers. It's been a very good effort from the groundstaff."
Find out what the prospects are for forthcoming fixtures in Britain and Ireland with our at-a-glance guide