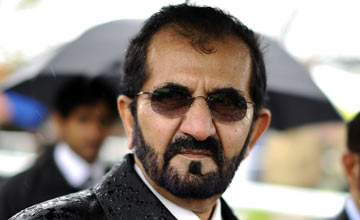 Sheikh Mohammed: medicines not destined for thoroughbred operation
PICTURE:
Getty Images
Unauthorised medicines seized at Sheikh's stud

SHEIKH MOHAMMED is facing fresh embarrassment following the seizure of 124 medical products, none of which have been approved for use on horses in Britain, at part of his Dalham Hall Stud operation in Newmarket.
Although there is no suspicion the haul was destined for the thoroughbred side of the sheikh's operation, the discovery of so many unauthorised medicines on the premises comes in the wake of the doping scandal earlier this year caused by disgraced Godolphin trainer Mahmood Al Zarooni, since banned from the sport for eight years.
The products, which have not been named, were found at Moorley Farm East, which provides the base within the sprawling estate for the endurance horses owned by members of the Maktoum family.
Last month's intelligence-led search of the property was conducted by officials from the Department for Environment, Food and Rural Affairs (Defra) on behalf of the Veterinary Medicines Directorate, the agency responsible for issues concerning the use and manufacture of veterinary medicines in Britain.
It is not known whether investigators were acting on information gained following the seizure by Border Force officers of unlicensed veterinary products, listed as 'horse tack', from a private plane after landing at Stansted airport in May. In that instance, the BHA said it was satisfied the shipment was not linked to racing.
The latest seizure notice, issued under regulation 41 of Veterinary Medicines Regulations and posted on the VMD website, said: "Moorley Farm East, Newmarket. 124 veterinary medicinal products were seized because they were not authorised in the UK and had not been imported into the UK in accordance with the regulations. These medicines, in varying quantities, were to be used on horses and included injectables, anaesthetics, anti-inflammatories and antibiotics."
Asked about the latest controversy to embroil Sheikh Mohammed's equine empire, Dalham Hall Stud director Liam O'Rourke, said on Tuesday: "There's no connection with the thoroughbred operation."
BHA spokesman Robin Mounsey said the issue was a matter for Defra. He added: "The property in question is not licensed by the BHA and we understand it isn't part of Darley's racing operation."

Read more on the seizure in Wednesday's Racing Post - or download the award-winning iPad edition from 8pm on Tuesday