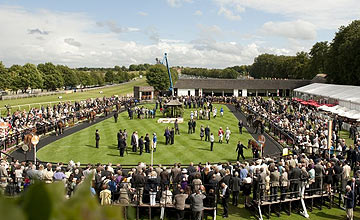 The Newmarket endurance trainer released a statement on Wednesday
PICTURE:
Edward Whitaker (racingpost.com/photos)
Nothing sinister in drugs seizure claims trainer
THE endurance trainer at the centre of latest furore to hit Sheikh Mohammed's Newmarket headquarters has insisted that there was nothing sinister about the consignment of 124 unauthorised equine medicines seized by government officials last month.
On the contrary, Jaume Punti Dachs, who trains endurance horses on part of Sheikh Mohammed's Dalham Hall estate at Moorley Farm East in Newmarket, said that Defra's Veterinary Medicines Directorate was concerned only that he had bought them overseas and imported them rather than buying them in the UK.
Punti Dachs and his wife Maria Mercedes Alvarez Ponton compete regularly in endurance sport and claim to expect such official visits. In addition to releasing a statement in which he denied any suggestion of wrongdoing, the trainer listed the names and quantities of medication he had brought in from overseas alongside the equivalent product, some under different trade names, he had ordered later that day and which were delivered to him the following day from the Newmarket Equine Hospital.
His statement read: "My stables in Newmarket was visited by the Defra Authorities in early August, where they searched the premises and found normal medications that I brought to the UK and they confiscated them because they were not licensed in this country.
"My wife and I compete regularly in the endurance sport, and I am proud that we hold the 2009 European Championships and 2010 World Championship for Spain and totally expected 'visits' like this. These 'visits' are natural/routine. These are all substances that you can buy in the UK, under a different trade name, and are a standard medicine cabinet in any stables.
"I know that these medicines are lawfully and legally used in the UK. However, the make/labels of the veterinary medicines in this case may be slightly different as they were purchased by me outside the UKand the authorities know that. They explained to me after their visit how to source the same medicines at the Newmarket Equine Hospital, and the following day I went and got them."
The full list was published alongside the statement to "help everyone understand what we are talking about" and Punti Dachs claimed to be "fully confident that everyone will clearly see that this is a completely normal [medicine] cabinet".
He added: "In the circumstances, VMD were entirely entitled to confiscate the products. I am fully satisfied with their actions. I must emphasize that there is no indication whatsoever or any suggestion of any wilful or careless wrongdoing."
The seizure took place because the medicines were unauthorised in the UK and had not been imported in accordance with regulations. Sheikh Mohammed's stud director Liam O'Rourke insisted when news of the seizure broke on Tuesday that Moorley Farm East was leased to a third party for endurance training.
He added that there was no connection with the huge racehorse training operation centred in Newmarket and which was thrown into controversy this year by the steroids scandal perpetrated by former Godolphin trainer Mahmood Al Zarooni.