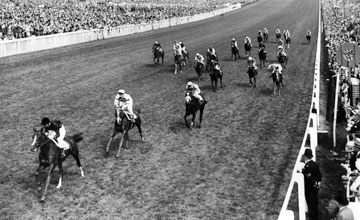 Were you there? Sea Bird breezes to victory in the 1965 Derby at Epsom
Share your personal memories of Sea-Bird
To coincide with our Giants of the Turf series in the newspaper every Saturday, we're asking YOU for your memories of the greats of horseracing.
This week it's Sea-Bird, regarded by many as the greatest post-war European flat horse. His three-year-old season consisted of five starts - he won them all.

Etienne Pollet-trained son of Dan Cupid began with an easy victory in the Prix Greffulhe, notched the Prix Lupin by six lengths, barely came off the bridle when taking the Derby by two lengths, trounced older horses in the GrandPrix de Saint-Cloud, and bowed out with a wide-margin win over the best field ever assembled for the Prix de l'Arc de Triomphe. Do you have personal recollections of Sea-Bird?

Leave your comments below - the best of them will appear in the paper alongside next week's Giants of the Turf.
Read Tony Morris's memories of Sea-Bird by downloading this week's Giants of the Turf (on Saturday, December 10)