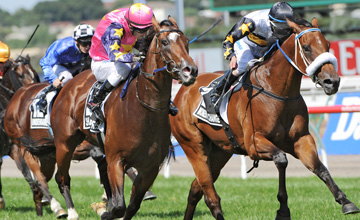 Shamexpress (left): raider has never been given steroids, his trainer said
PICTURE:
Getty Images
Shamexpress trainer 'against steroids'
DANNY O'BRIEN, trainer of one of Australia's leading Royal Ascot contenders Shamexpress, flies in on Wednesday on the back of a call for his country to follow Britain's lead in banning the use of steroids.
Stressing that King's Stand Stakes contender Shamexpress has never been given steroids, O'Brien on Monday told the Racing Post he would gladly see the back of them in Australia, where they are permitted in training as long as they have exited the horse's system by raceday.
"Australian racing is actually very tough on drugs – we have as much out-of-competition testing and raceday testing as almost anywhere – so this is a bit of an anomaly," said the Melbourne-based trainer, who saddled Star Witness to be placed in both the King's Stand and Golden Jub ilee in 2011.
"With half the world not using steroids, it is a matter of consistency and it makes sense for us to get in line. If we didn't have them, like it is in England or Hong Kong, everyone would know where we stand and I wouldn't have to answer questions about it.
"It makes sense to have a consistent outlook around the world and I don't think it would make much difference to our racing."
Always a highly emotive topic, the ethics of steroid use have come to prominence again in the wake of the Godolphin controversy involving disgraced trainer Mahmood Al Zarooni. O'Brien, who is making his third visit to Royal Ascot, has echoed calls for worldwide consistency on medication rules, a subject set to be tabled at the next meeting of the International Federation of Horseracing Authorities.
"It's not going to be a game changer if we ban them in Australia," said O'Brien. "I'm not a believer in them but I know other trainers use them, although it's probably not as widespread as everybody thinks.
"Our rules say they have to be out of the horse's system by raceday and my understanding is that the only ones that are any use would have eight to ten weeks' withdrawal, which limits their effectiveness. I think there are very few horses using them in a limited manner anyway. Then again, I'm not really the person to ask about that."
O'Brien confirmed he had never used steroids with Shamexpress, whose John O'Shea-trained compatriot Sea Siren runs in the Diamond Jubilee.
"He's never had them," he said. "He certainly wouldn't need hormones or anything as he is a very masculine colt, as you'll see. He's an impressive sort of colt.
"I don't have any problem if someone else is using steroids," he added. "I don't feel disadvantaged."
O'Brien is pleased with the progress of Shamexpress, who won the Group 1 Newmarket Handicap at Flemington on his most recent start in March and is a best-priced 12-1 for the King's Stand on Tuesday.
"You always worry how the horse will handle the flight across, but from our experience travelling horses it appears he has handled the flight without any worries," he said, speaking from Australia.
Shamexpress, who will not be asked to turn out again later in the week for the Diamond Jubilee, is set to stay on in Britain for the July Cup at Newmarket.