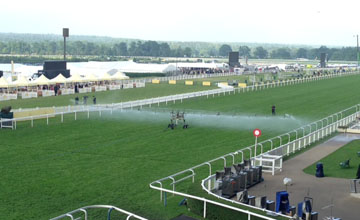 Watering will be taking place at Ascot overnight
Lack of rain leads to overnight watering

WATERING will take place overnight for day four of Royal Ascot, as the forecast rain failed to materialise, with the ground quickening up to good to firm for Thursday's racing.
The quick conditions led to eight runners being pulled, including Rite Of Passage in the Gold Cup, Alive Alive Oh, who was favourite for the Ribblesdale when she was withdrawn, plus another leading contender The Lark.
Clerk Chris Stickels and his team will be applying 4mm to the whole track, and Stickels said: We've had three nice days, and while we expected rain it didn't come, which happens sometimes. Sometimes you are on a hiding to nothing.
"There is a risk of a thundery shower tonight, but tomorrow by mid-morning the risk diminishes and the afternoon should be pleasant, warm and sunny. There is a faint risk of a shower then and a slightly higher risk on Saturday, but they've been predicting rain all week and it hasn't arrived.
"We're also dropping the rail from about nine furlongs out tonight. It's a false rail from there to the home bend so that will come down and runners will have use of the full width of the track on the round course."