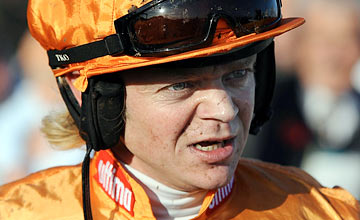 Robert Thornton: jockey hoping to be back in action early next month
PICTURE:
Getty Images
Thornton aiming for early February return
JOCKEY Robert Thornton is aiming to be back race-riding in the first week of February as he continues to make progress from the fractured arm he suffered in a fall last month.
Thornton, who injured his upper right arm when falling from Western Whisky at Hereford on December 11, will see a specialist on February 2 with the view to getting the all-clear.
Consultant Richard Keys had told him he could expect to be out of action for three months after he operated on the jockey three days after his fall but Thornton is eager to return to riding much sooner.
"I'm aiming to be back in the first week in February," Thornton said on Thursday. "I'm strong enough and fit enough now, it is just whether they will let me."
"I'll go back to see Mr Keys at the Manor Hospital in Oxford on the second with a view to getting back as soon as possible."
Thornton, who was undergoing physiotherapy at the IJF's Oaksey House in Lambourn just days after his operation, was back there on Thursday continuing his programme by using the weights for fitness at the gym.
"I'm feeling very good and very happy with it," added Thornton. "I would like to be back riding now but they won't let me."