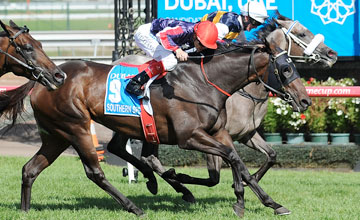 It is alleged top jockeys in Australia have been betting on rivals horses
PICTURE:
Getty Images
Racing Victoria chief
denies latest fixing claims

Australia: Rob Hines, the chief executive of Racing Victoria, has denied any knowledge of the fresh allegations of race fixing aired in Australian newspapers on Wednesday, which claimed that top jockeys have been betting on rival horses.
An investigation into the murder of former trainer Les Samba last year by Victoria police had revealed possible race fixing involving high-profile rider Danny Nikolic in one race in April 2011 and the Melbourne Herald Sun alleged, via an unnamed Betfair source, that several other leading riders in Australia had been betting on opponents in races.
The Betfair source told the Herald Sun that the racing authorities had been notified and that it was a very serious case.
However, in a statement released on Wednesday, Hines said he was unaware of any incidents but pledged to investigate them fully if evidence was provided of any skulduggery.
He said: "Racing Victoria has no knowledge of the allegation in today's newspapers regarding a jockey wagering on another horse in the same race and is not aware of the source of this allegation. If evidence is provided to Racing Victoria to support this allegation then swift action will be taken by the stewards under the rules of racing.
"With respect to comments pertaining to a separate investigation into betting activities, it is important to note that we stringently monitor betting on over 4,000 races annually in conjunction with all approved wagering operators to ensure that the integrity of our sport is maintained.
"As part of this process, we regularly investigate betting on specific races where there may be an abnormal pattern of activity and if required will open an inquiry to further our investigations.
"We will not comment on individual investigations until such time as charges have been laid with respect to breaches of the rules of racing."
He added: "As advised previously, Racing Victoria has been working closely with the Racing Integrity Commissioner, Sal Perna, and Victoria Police for a number of months on the allegation pertaining to fixing of the race won by Smoking Aces at Cranbourne in April 2011."
Earlier this month, Victoria police uncovered alleged corruption centred around a race involving the Nikolic-ridden Smoking Aces at Cranbourne.
It is alleged that two other jockeys were to ride in a style that would hamper the favourite and boost Smoking Aces's chances of winning. The conspirators were thought to have made A$200,000 (£135,000).