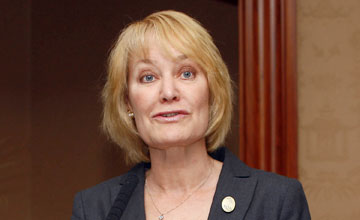 Rachel Hood: hopes racing can move on from "acrimony and dispute"
PICTURE:
Dan Abraham
Rachel Hood: owners are angry and disillusioned

OWNERS were last night described as being disillusioned and angry that not enough of racecourses' media rights income, which next year will rise to £84 million, is making its way into prize-money.
Nevertheless, Racehorse Owners Association president Rachel Hood told the 242nd Gimcrack Dinner at York racecourse that she believed there was more cause for optimism than there had been "for some considerable time" that racing could move on from what she described as its "traditional state of acrimony and dispute".
The Horsemen's Group, of which Hood is a board member, had said contractual prize-money agreements between racecourses and horsemen were the necessary next step following the announcement of the BHA's enforceable race values last month.
And it was a theme Hood returned to in her speech at one of racing's major industry gatherings as she described owners' dissatisfaction at some racecourses' contribution to prize-money.
She said: "Please let me make it absolutely clear that it is essential that Britain continues to have vibrant and profitable racecourses and, to that end, we are fortunate there are so many well-run racecourses in Britain at all levels.
"But, ladies and gentleman, the fact that a racecourse's allocation to prize-money remains totally discretionary is, quite simply, wrong.
"British racing's funding model has changed so much in recent years and while there remains a lack of total transparency around the issue of media rights, to its credit the Racecourse Association has recently confirmed that by 2013 racecourses will be receiving media rights of at least £84m, nearly £30m more than in 2010.
"Based on around 1,450 fixtures . . . this means racecourses will receive something close to £60,000 per fixture. The fact there are still a number of courses out there that don't even contribute £10,000 to prize-money at their fixtures, illustrates why many owners are disillusioned. Other owners, myself included, are pretty cross."
Hood said prize-money contracts between racecourses and horsemen would help remove that point of friction.
"I am optimistic that there are enough visionaries within racecourses to appreciate that contractual prize-money agreements, providing a fair and reasonable return to horsemen of all the income streams received into racing underpinned by the rules of racing, would transform British racing from its traditional state of acrimony and dispute, to one of partnership and joined-up thinking.
"Instead of fighting over the crumbs, prize-money agreements based on horsemen receiving a guaranteed percentage of all revenue streams could, and should, at long last, bring together racing's stakeholders to maximise the value of our combined assets."
She praised BHA chief executive Paul Bittar for re-establishing his organisation in a leadership role within racing but said he faced his most testing challenge in bringing the two sides together.
She said: "Make no mistake, Paul now faces his biggest test in assisting the horsemen and racecourses work through the inevitable challenges over detail to deliver the prize-money agreements that are needed to transform our world for the better."
Hood added: "There is so much to be done and British racing is now facing a new dawn. Will those within the industry adopt a much more constructive and collaborative approach with a view to achieving industry-agreed goals or will we retreat into our old confrontational ways?
"Now is the time for a new approach, not just a four-legged one, and I am optimistic enough to believe there are enough of us here this evening that share that view. It's not rocket science. Let's get on with making it a reality."
The speech traditionally given by the owner of the year's Gimcrack Stakes winner was made by Lauren Morgan, co-owner of the Kevin Ryan-trained Blaine, who said she wanted to focus on the positive side of racing.
She said: "At a time when many would wish to address what is wrong within racing I feel it is important to highlight exactly what is right in the sport. The hard work that many are putting in to change the face of racing, and to make it appealing to all, is definitely working. I hope you all agree.
"I strongly recommend to anyone thinking of becoming involved in racing that they would not be disappointed with how welcome they would be made to feel."