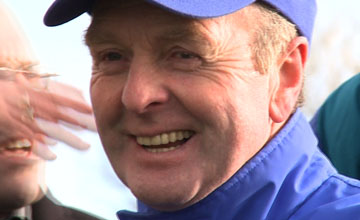 Jonjo O'Neill: "If you can make him run any faster you're welcome to try"
Performance of I Can Run Can You scrutinised

THE performance of Jonjo O'Neill's I Can Run Can You, who drifted wildly to 9-1 (from 7-2) at Worcester on Wednesday, remains an "open case" after the stewards inquired into the three-time winner's ride from Richie McLernon when finishing sixth in the 2m7f handicap hurdle won by Giveitachance.
After the 88 length defeat, Louise Williams, the stipendiary steward, said the horse "appeared to be tenderly ridden throughout and we thought Richie should have persevered longer than he did."
Iain Mackenzie, the Racing Post's close-up reporter on duty at Worcester, wrote: "Dropped out in rear, looked promising progress to chase leaders after seventh, eased before ninth, hopelessly tailed off."
The official report from the stewards said that McLernon told them it was the horse's first attempt at the trip and he was told to drop him in, settle him and to get him to finish as close as possible.
He added that after "missing" the first hurdle the horse jumped deliberately and was never travelling thereafter. O'Neill confirmed the instructions and added that the yard was performing inconsistently at the moment.
"The explanations were noted," said Williams. "It will therefore remain an open case."
After the inquiry, when O'Neill was asked about the performance, he said: "If you can make him run any faster you're welcome to try."
I Can Run Can You was cut to 7-2 (from 9-2) soon after the racecourse market took shape, but in the minutes before the race slipped to 9-1.
O'Neill, busy all afternoon saddling runners, said: "I can't imagine why anyone would have backed him. My horses are very in and out at the moment. Some are running very badly."