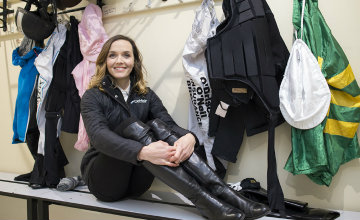 Victoria Pendleton: venture into racing has attracted mixed opinions
PICTURE:
Edward Whitaker (racingpost.com/photos)
Kneller hits out at Pendleton project

JOCKEY Racheal Kneller has criticised Victoria Pendleton's bid to become an amateur jockey, describing it as a 'slap in the face' to stable staff who will never receive the same opportunities that the Olympic gold medal-winning cyclist has done.
Kneller, who has ridden 36 winners on the Flat over the last five seasons in Britain, tweeted a link to a personal Facebook post expressing the view that the Pendleton's Betfair-sponsored project, for which the ultimate aim is to ride at next year's Cheltenham Festival, is sending out the wrong message to those within the sport who devote themselves to becoming jockeys.
Kneller said: "Am I the only person who is finding the Victoria Pendleton hype a little overpowering? She's doing amazingly well at the task so far given her zero horse experience and hats off to her effort so far.
"But there are kids that have worked their butts off for years in racing with the dream of riding in a race one day who will probably never get the chance to."
While many in racing believe Pendleton's venture is bringing the sport great publicity, Kneller added: "I just find it all a bit of a slap in the face to hopeful hard-working stable kids with a dream who sadly don't have the media onside."
Pendleton received plenty of goodwill after finishing eighth in a charity race at Newbury last Thursday in what was her first ride in public, but Kneller's criticism drew some consensus on Sunday with ex-jockey Laura Pike tweeting her agreement.
Pike said: "Workers in racing who can ride better than her will never get the chance to go amateur makes our sport look a joke. In this sport it's about who you are not your ability."