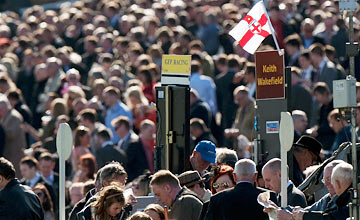 Four largest retail bookmakers will meet with British racing representatives
PICTURE:
Edward Whitaker (racingpost.com/photos)
Common ground sought in ABP dispute

BRITISH racing and the major betting shop operators will on Tuesday meet around a table for the first time since talks over the levy and remote gambling collapsed at the end of October to see what common ground can be found following the breakdown in relations between the two sectors.
The atmosphere between racing and betting has soured over the intervening three months as the row over the sport's controversial authorised betting partner (ABP) policy deepened.
Discussions between representatives of racing and the four largest retail bookmakers - Betfred, Coral, Ladbrokes and William Hill - will take place without BHA chief executive Nick Rust, who has become most closely associated with the strategy of refusing to enter into new commercial arrangements such as sponsorship with firms which will not pay a share of their online profits at the required rate.
Rust is understood to be required for another BHA meeting.
On the eve of the talks those involved on both sides were keeping their own counsel, with nobody wishing to be accused of negotiating in public.
BHA media manager Robin Mounsey would only say: "Various discussions and meetings with bookmakers about British racing's ABP initiative are taking place on an ongoing basis, in private."
That stance was reiterated on Tuesday regarding reports that BetVictor are posied to become the latest bookmaker to sign up to the ABP agreement.
Levy Board chairman Paul Lee is understood to be acting as an intermediary between the two sides on Tuesday, as he has in what contact has taken place since the end of October. He was unavailable for comment on Monday.
Tuesday's discussions are being regarded as a resumption of the talks on remote gambling that took place in parallel with statutory levy negotiations for betting shops last year.
Racing's rejection of a five per cent offer on remote betting from the firms involved led to the statutory levy talks collapsing and the scheme being sent to government for determination.
Bookmakers have said the announcement of the ABP policy less than a fortnight before the levy deadline was a major contributory factor towards the failure to reach agreement.
Indeed there was dispute on Monday as to the extent to which the ABP policy would form part of today's talks, which were being portrayed as an exercise in going over what the two sides' positions are and where their respective positions have changed.
If agreement could be reached then authorised betting partner status might follow, but it was also made clear racing can sign up partners only on an individual basis or potentially fall foul of rules governing collective negotiation and competition law.
The disparity between the online rate of 7.5 per cent being paid by the biggest ABPs - Betfair, bet365 and 32Red - and the retail rate of 10.75 per cent, and that second rate's sustainability in the eyes of bookmakers, was set to be one of the areas covered.
'Racing can't have its cake and eat it'
Meanwhile the managing director of one of Britain's leading independent betting shop chains has warned racing not to forget about the sector and said smaller bookmakers would need relief on the retail levy rate.
Those operators who have signed up to ABP status are saving money, having previously made a voluntary contribution to racing at the headline rate of 10.75 per cent. Retail bookmakers who have yet to sign would be incurring extra expense by paying on remote betting in addition to their shops.
Greg Knight, of Jenningsbet, said: "The consequences of the ABP policy are far more important for the likes of Betfred and Paddy Power, who sponsor a lot of races.
"The independent sector doesn't, so in terms of ABP I wouldn't expect a great deal of contact.
"I think where racing needs to listen - not just to the independent sector but to everybody - is I am paying a huge amount more than I was seven years ago in terms of media rights.
"Racing can't have its cake and eat it. If it gets media rights and offshore the give has to be on retail, because that is what suffering - especially independent retail."