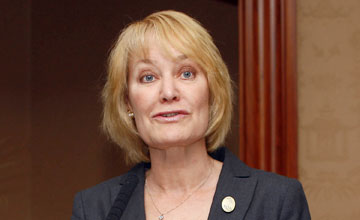 Campaigner: Rachel Hood of Save Historic Newmarket Action Group PICTURE: Dan Abraham
Lord Derby's Hatchfield Farm appeal is dismissed
CAMPAIGNERS in Newmarket are celebrating after Lord Derby's appeal over his planned Hatchfield Farm development was dismissed by Secretary of State Eric Pickles.
Racing bodies including Tattersalls, Darley, Godolphin and the Save Historic Newmarket Action Group have been fighting the plans to build 1,200 houses on a greenfield site since 2008.
The plans were originally turned down by the Forest Heath District Council in June 2010 but were the subject of a long-running public inquiry last summer after Lord Derby appealed.
Rachel Hood, chairperson of the Save Historic Newmarket Action Group said : "It's absolutely wonderful news for Newmarket that the Secretary of State has listened to the people who have long opposed this grotesque development."