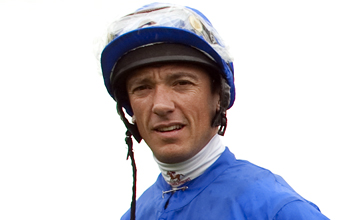 Frankie Dettori: decided to submit himself to a renewed batch of tests
PICTURE:
Edward Whitaker (racingpost.com/photos)
Dettori in France in bid to speed up comeback
FRANKIE DETTORI has returned to France determined to meet every demand made of him by French authorities in the expectation he may soon be cleared to ride.
Dettori's proposed comeback on Monday, after a six-month worldwide ban, stalled when it emerged one of three tests carried out by France Galop last month had produced an irregular result.
Dettori's agent in France, Herve Naggar, has revealed the 42-year-old decided to submit himself to a renewed batch of tests as specified by the original disciplinary panel last December.
Naggar said: "The decision of the commissioners last year was that Frankie would have to pass three straight tests in the same week, and that all should be negative. We knew last Friday the first of those three posed a problem."
"Frankie decided not only to collaborate with the French authorities but, in order to sort things out as quickly as possible, he arrived in France yesterday [Wednesday] morning and decided himself to undertake the same testing procedure again as last month. That is to say, that he asked France Galop to re-test him yesterday, today and tomorrow, because he's sure of himself."
Naggar was reluctant to speculate as to whether the three-time British champion rider would be cleared in time for the Investec Derby a week on Friday, but he expects the laboratory handling the new batch of tests to act much more quickly than was the case last month.
Read more in Friday's Racing Post - available to download here on iPad from 8pm on Thursday