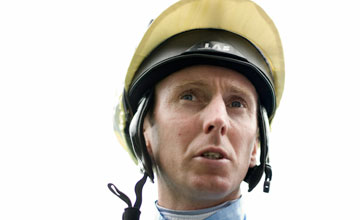 Martin Dwyer: can return on Investec Derby day at Epsom
PICTURE:
Getty Images
Dwyer stunned by 56-day ban in India
MARTIN DWYER has spoken of his shock at being banned from April 6 to May 31 after stewards in India deemed he had not allowed a short-priced favourite to run on its merits in a finish that led to protests from angry racegoers.
The punishment means Dwyer misses virtually the first two months of the British Flat season. The final day of his ban is Investec Oaks day at Epsom where he might have expected to ride May Hill Stakes runner up Purr Along, a 33-1 shot in ante-post betting for the Classic.
He will also miss the ride on the filly should she contest the Qipco 1,000 Guineas, for which she is the same price, on May 5.
"I am shocked and extremely disappointed," Dwyer told the Racing Post. "I intend to appeal."

The 56-day punishment was decided upon at a disciplinary hearing of the Royal Western India Turf Club on Thursday.
The race at Mahalaxmi in Mumbai on February 17 made headlines around the world after Dwyer reportedly had to be rescued by security guards as angry racegoers protested at his riding of Ice Age, the 6-4 favourite, who ran third.
Head-on pictures showed Dwyer's mount veering to the right in the closing stages and colliding with a rival, after which Dwyer pulled his mount away. When he began to ride out Ice Age in the final strides, the filly hung right again with Dwyer reporting her to have bled during the race.
Dwyer, a Derby winner on Sir Percy in 2006, also told BBC Sport: "The vets confirmed about the horse bleeding during the race and I even had blood on me at the original hearing.
"I'm trying to get my head round it, but I will appeal against this decision, and will do everything I can to clear my name."
Local press reports sugegsted that racegoers surrounded the weighing room demanding the race be declared void. RWITC officials declared Ice Age a non-runner and all bets on her were ordered to be refunded. Later, police were called to prevent the situation getting out of control.
Dwyer's experience has echoes of the 50-day suspension incurred by Richard Hughes in India in 2012. That ban was reciprocated by the BHA and a similar outcome is likely with Dwyer.
Such an outcome will be strongly opposed by the Professional Jockeys Association, whose chief executive Paul Struthers issued a statement critical of Dwyer's ban.
Struthers said: "Martin is bitterly disappointed about the outcome of today's hearing and will be lodging an appeal against the decision as a matter of urgency.
"He is entirely innocent of the charges levelled against him - one only needs to view the head-on replay of the race to know that - and will fight to clear his name.

"He will have the full support of the PJA and in the event his appeal fails, our strong advice would be to make an application to ask the BHA not to reciprocate what in our view is an entirely unjust and perverse decision."