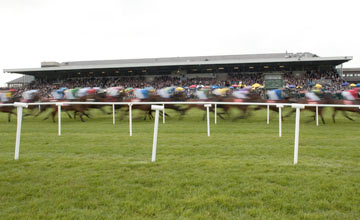 Punchestown: must pass an inspection at 8am if racing is to go ahead
PICTURE:
Edward Whitaker (racingpost.com/photos)
Prospects look bleak for rain-hit Punchestown
THURSDAY'S star-studded Punchestown card was looking almost certain to be abandoned after incessant rain left officials resigned to moving the third day of Ireland's premier jumps festival to a new slot on Sunday.
Fears that fierce winds of more than 90kph and prolonged downpours could result in Wednesday's card being lost proved unfounded but the fixture's two contests over fences - including the showpiece Thetote.com Punchestown Gold Cup - were both cancelled and transferred to Saturday after parts of the chase course were found to be waterlogged at noon.
Three hurdles and two bumpers did get staged with horses splashing through water lying on the track, but with rain expected to continue through the night and into the morning, the prospects of an 8am inspection giving a green light to racing taking place were thought minimal.
"It needs to stop raining," said racing manager Richie Galway on Wednesday. "If it stops we'll do everything we can to get the water off the track but on the basis of what we're seeing now we're very doubtful.
"We'll have a formal inspection at 8am when things will be at their worst. If it stops raining we'll have a chance but with the rain continuing things look bleak. It's due to ease for a period but there's rain forecast until midday.
"Theforecast is for things to improve from Thursday lunchtime so we should be able to run Friday and Saturday as normal and then Sunday looks the best option for us to stage Thursday's card."
Galway suggested that a hurdles and cross-country chase card could take place, but only if the forecast improves considerably.
He added: "The one thing that gives me hope of staging a hurdles and banks course card is that the jockeys have been so positive about the ground. That makes me a little more optimistic."
At 8.30pm on Wednesday, in Betfair's 'Will Racing Go Ahead' market, it was 1-20 for 'no' and 13-8 for 'yes'.