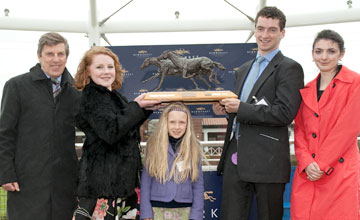 Patrick Mullins (second right) was a winner of last year's award
PICTURE:
Edward Whitaker (racingpost.com/photos)
Previous winners to
the fore at Martin Wills
COURSE form proved valuable with three previous winners featuring among the six young scribes who receive prizes in the 21st Wills Writing Awards.
The prestigious literary competition, whose previous winners include trainer Andrew Balding and Ireland's record-breaking amateur jockey Patrick Mullins, presented a typically difficult test for its judges, who named Lottie Pyper, Tom Cantillon and Tim Oliver as the three category champions.
Oxford Universtity student Pyper, 19, produced an impressive fictional piece, entitled "I Had No Idea", which won her the under 26-category. Pyper had been runner-up in last year's under-19 category, while under-26 runner-up Victoria Griffiths, 20, was successful in the under-19 heat in 2010.
Also becoming a dual winner is County Kildare's Cantillon, 17, who by taking the under-19 race with a powerful ghost story not only followed up his under-15 success in 2010 but maintained a rich family tradition with brother Jack having also been named under-19 winner in 2009. Helen Spalding filled the second spot in the under-19 division.
Triumphant in the junior under-15 heat was the 14-year-old Hampshire-based Oliver, author of the striking "Horse-Riding with no Legs", with Georgia Kyte, 12, from Hampshire the next best.
Chairman of judges Brough Scott said: "The idea of the Wills Writing Awards was to encourage imaginative writing with a racing theme. So it was a delight to find this year's entries more imaginative than ever. Even if sometimes uncomfortably so!"
The Wills Writing Awards - whose previous prize winners also include the Racing Post's Jonathan Mullin and James Milton - commemorate Martin Wills, a journalist and amateur jockey, who died in April 1992, aged 39.