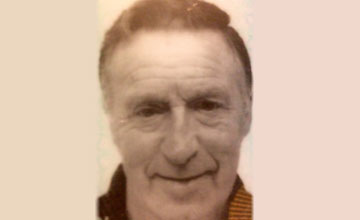 Owen Brennan: disappeared from his home in Derby on Monday afternoon
Police widen search for missing trainer Brennan
THE search for trainer Owen Brennan was widened on Thursday by police as they became increasingly concerned about his safety after he disappeared from his home in Derby on Monday afternoon.
Police are now concentrating on the Worksop and Welbeck areas of Nottingham where Brennan is thought to have friends, while an up-to-date photograph was issued of the trainer, who was last seen leaving his home at 4.45pm on Monday by his wife Pat.
Deteriorating weather conditions and the 77-year-old's lack of medication, which he was taking following a stroke in September, were also leading to heightened worry over his safety with thoughts that he may have become disorientated after leaving his home.
Pat Brennan said on Thursday: "I'm mystified they haven't found him. I don't think he would have been able to walk more than a mile as the stroke left his legs weak.
"People have been absolutely fantastic and it is all over everywhere and people have been ringing and saying they saw somebody matching his description and the police have checked everything out.
"The photograph they published was taken in July at Uttoxeter after he had had a winner and the angle at which it's taken makes him look fatter that he is as he lost a lot of weight after his stroke. Please God he returns safe and sound."
Brennan is described as white, 5ft 7in, of slim build, with brown short hair that is going grey. He was last seen wearing brown denim trousers with a red cross on the back pocket, a brown cotton-type jacket with a wool lining and a fur collar. He may possibly be wearing a cap. He walks with a stoop.
Anyone who sees Brennan is asked to call Derbyshire police on 101.