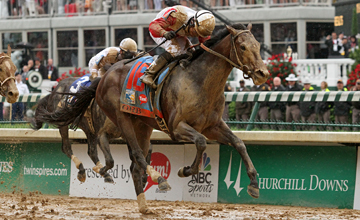 Orb: Kentucky Derby winner draws stall one for the Preakness Stakes
PICTURE:
EquiSport Photos/Jessie Holmes
Orb trainer upbeat despite tricky draw

THE trainer of Kentucky Derby winner Orb remains optimistic his colt can win the Preakness despite being drawn poorly in stall one for Saturday's race at Pimlico.
The last Preakness winner to win from the lowest berth was Tabasco Cat in 1994 but connections of the favourite are hopeful their charge can defy the trends.
Trainer Shug McGaughey told www.bloodhorse.com: "Obviously if I was going to pick the post, I wouldn't have picked post one.
"But with only nine horses in there and with a rider like Joel [Rosario], he's going to figure out what to do.
"He'll have him in the right spot. I'm looking forward to Saturday afternoon.
"We've got an even-money shot in the Preakness. What more could I ask for?"
This marks the fourth time since 2000 that the Preakness field will number nine or fewer. There were nine in both 2007 when Curlin won and 2006 when Bernardini triumphed. Red Bullet upset Fusaichi Pegasus in an eight-strong field in 2000.
Ominously for Kentucky Derby winner Orb all three of those races saw the Derby winner defeated, and all at short prices. Street Sense (2007) was 6-5, while Barbaro (2006) was 1-2 and Fusaichi Pegasus 3-10.
Though not the stall McGaughey had hoped for, the trainer said he doesn't believe it's an issue.
"The one post here is different than the one post at Churchill Downs. It's not going to be a concern."