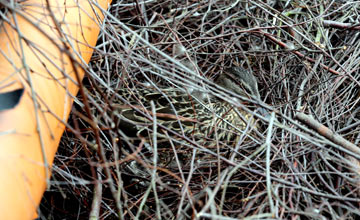 PICTURE:
John Grossick (racingpost.com/photos)
Picture: The Sedgefield duck, arguably the most disruptive animal in British sport since the Anfield cat, on Tuesday appeared to take the experience of dozens of racehorses thundering by her nesting site with a sangfroid borne of confusion and maternal diligence.
The roadside fence, her temporary home, was skipped to ensure the mother and her eggs were not unduly disturbed. The pitter patter of little ducklings is expected in the next few weeks.