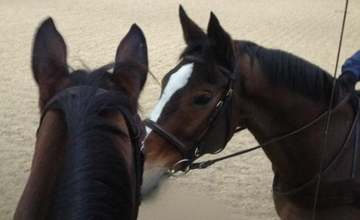 Kauto Star: Admiring himself in his new surroundings at Laura Collett's yard
PICTURE:
@CollettEventing
PICTURE: KAUTO STAR has adapted well to his new work routine, with rider Laura Collett (@CollettEventing) tweeting the above photo of Kauto Star admiring himself.
Yogi Breisner was on hand to assess the chasing superstar for the first time today and he said: "Due to the excellent way they are taken care of in training, most racehorses find it easy to adapt to being a riding horse and on the evidence so far, Kauto Star will be no exception."
Di Arbuthnot, chief executive of Retraining of Racehorses, added: "Kauto Star appears to have settled well in his new surroundings and has started to do some flat work in the indoor school.
"It is encouraging, while also not surprising, that he is already demonstrating his intelligence and adaptability when being exercised."