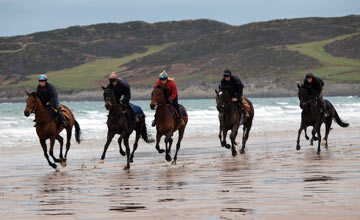 Picture: Several of Victor Dartnall's string gallop along the strand at scenic Woolacombe Bay, as they have done regularly since 1995.
However they are welcome there no longer after the leaseholders of the bay, Parkin Estates, threatened to serve Dartnall with an injunction if he continued to exercise his horses on the beach.
He said: "It's wonderful for the horses to go to the beach. They think its marvelous and it really cheers them up. And the locals have always loved us going there too. They'll come up and take a real interest in the horses.
"I feel this is quite a drastic action to take against a key local employer in North Devon trying, like the leaseholders, to make a living and continue employing local people during the ongoing downturn in the economic climate.
"We've been going there since 1995, but the current leaseholders clearly don't like horses and they don't want us there.
"There are other beaches we can go to in North Devon, but the beauty of Woolacombe is the amount of space, and the fact you can canter for long stretches with out interfering with anyone else who might be walking there."
No one from Parkin Estates was available to comment on Thursday.