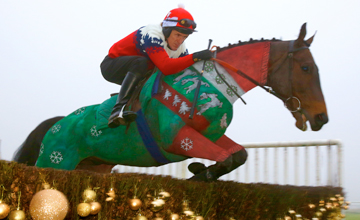 PICTURE:

The Jockey Club
PICTURE: Bringing a whole new meaning to the phrase a Christmas jumper, Tony McCoy sports a piece of festive knitwear almost as jolly as his mount, Dr Livingstone, who is painted neck to hoof in his own Christmas get-up.
They jumped a training fence decked out with tinsel, baubles and presents as part of a photoshoot to promote Jockey Club Racecourses' online advent calendar at giftofracing.co.uk, where freebies including thousands of tickets are up for grabs.
Check out a video of the 17-time champion jump(er) jockey in action with his festive partner here.