Black Caviar: retired unbeaten last month after 25 starts
PICTURE:
Getty Images
Black Caviar never given steroids says Moody
Australia: Peter Moody has launched a fierce defence against claims that Black Caviar's successes at Royal Ascot and elsewhere are sullied by the use of steroids.
As a result of the fallout from the Mahmood Al Zarooni doping case, the Australian rules allowing horses out of training to be given steroids have come under the spotlight in Britain.
A request had been made to the BHA to reveal if Black Caviar had been treated with steroids, which may have given her long-lasting benefits when racing, but the governing body failed to reveal any details.
However, Moody was furious that such accusations had been made against his unbeaten champion, who retired last month after 25 wins.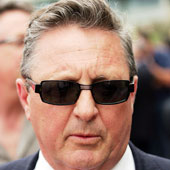 Lee Freedman: not impressed by British views on Australian runners
PICTURE:
Getty
Asked if Black Caviar had ever been given steriods, Moody told the Melbourne Herald Sun: "Nil. Steroids increase bulk. Black Caviar was a huge mare, from the day she was born. It would have been absolutely counter-productive."
Moody added that Black Caviar had been tested on arrival in Britain last summer and three days before her heart-stopping win in the Diamond Jubilee Stakes.
Moody went on to question the views of "lilywhite" British trainers on raceday medication, citing the use of Lasix in the US as evidence.
"They bang on about steroids but they are the first to use Lasix when they campaign horses in the US," he said.
"Maybe the Poms might start looking at themselves rather than looking at us."
Moody's strong views were echoed by trainer Lee Freedman, who saddled Miss Andretti to win the 2007 King's Stand Stakes.
"Some Brits need to pipe down re Aussie horses at Ascot and not tar all. My Ascot winner was never given steroids," Freedman wrote on Twitter.