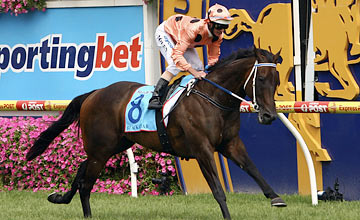 Black Caviar enjoyed one of her most facile victories to date in Orr Stakes
PICTURE:
Getty Images
Black Caviar trip posers left unanswered in Orr

WORLD CLASS: an analysis of the international scene according to Racing Post Ratings

SATURDAY'S Orr Stakes was supposed to tell us something new, but it failed. The unbeaten champion sprinter Black Caviar was set to stretch her stamina up to 1400m (7f) for the first time in what some saw as a step towards a potential match with Frankel.
The mare was supposed to tackle 1400m, but she ended up running just 600m (3f) of it. The preceding half mile procession, to celebrate her 18th win, was a gift from her rival jockeys, suggesting none of them were willing to rewrite the written.
It was one of her most facile victories to date,but the result adds little to the picture of this great sprinter, other than to reaffirm that even trainer Peter Moody is running out of reasons to keep her on home soil.
A 1400m race in name only, Black Caviar closed out the final 600m without coming off the bridle in a stinging 32.98s (averaging under 11s per furlong). The first half mile was run at a sedate 52.16s (averaging over13s from a standing start).
The final time was slower than the three-year-olds managed in the previous race, which was hardly run at a break-neck pace.
When they that set off that slow and when a horse has the cruising speed of Black Caviar, the preliminary stages become little more than an extension of her canter to post. Forget 7f, the Orr may as well have been a 5f race, or a 3f race, or, indeed, a mile race.
Given that she can finish in under 33s without breaking sweat and that she can run 13s-sectionals till the turf runs out, it wouldn't have mattered how long the race was.
Far from proving her staminafor a step up to a mile at Royal Ascot, this race didn't even prove she'd get home in the Diamond Jubilee (formerly the Golden Jubilee) over Ascot's stiff 6f.
Of course she will stay up the hill at Ascot and she will win easily but these 7f races in Australia should not be seen as a step towards seeing out a strongly run mile in Europe. The only way of testing that is in a strongly run mile, anywhere.
If she was forced to run sub-12s in the early stages of her races she would eventually run out of steam - and would be highly unlikely to close out a 7f race on a dead track (good to soft) in less than 33s, as she did on the weekend.
At what distance she would finally relent is anyone's guess, but Ascot is the place to test it. That is, if ever one felt cause to test the endurance of a sprinter.
There is buzz in Australia regarding where she'll go next. Will it be the the Lightning over 5f on Saturday or back to Caulfield Saturday week for the Futurity over 7f? Or both?
In either, or both, she will be long odds-on, which tells the same tale that has been told for almost a year now.
For her last eight starts, since breaking clocks and weight-carrying records in the Newmarket Handicap in March last year, she has been sent off at odds ranging from 3-20 to 1-33.
For those eight starts she has simply been running to get her numbers up. Five Group 1s and three Group 2s. Never once challenged, never once in doubt.
For five starts now she has not met a sprinter of note. No Hay List, no Sepoy. Her ratings have started to suffer too, with Saturday's win producing her lowest RPR since October 2010.
That is, of course, not a comment on her losing speed or ability, but on her rivals becoming weaker and weaker and her victories easier and easier.
It doesn't matter where she goes in the nextfew weeks. Moody won't run her if she's not 100 per cent and her ability will see her win whenever she hits the track. She's already proved her superiority beyond doubt around the Melbourne tracks.
It is longpast time for the next chapter to begin and perhaps the best path for her to take in the coming weeks will be that which best prepares her for her foreign adventure.
Next month's Dubai Golden Shaheen is high on the agenda. That's new. A change of surface, Tapeta, a different continent and a shot at the Global Sprint Challenge bonus.
The US$1million bonus requires wins in three countries. Saturday's Lightning Stakes or the Patinack Farm Classic in November will suffice for the home leg, the Diamond Jubilee or July Cup will provide the British leg and the Golden Shaheen would bring up the three.
With under four months until Ascot, and no mile races on her schedule before then, Black Caviar is even less likely (if that's possible) to contest the Queen Anne Stakes in light of her success in the Orr.
It is not that she had her stamina disproved on Saturday, but she was a long way off proving it - that race was set up as a test of speed, and there wasn't another sprinter in the field - and now the mare has one less opportunity to confirm her jockey and trainer's assertions that she could be even better over further.
If anything, the latest fairystep up the distance spectrum has sent her back the other way. She is now unlikely to contest a mile until at least the end of the year, with a full sprint campaign already mapped out. And that late in the season, after say 23 runs, why bother?
It was a nice idea that perhaps the best sprinter we have ever seen could be even better if... but it was always longer than a long shot.
The slow fractions and weak opposition on the weekend meant that Black Caviar ran below her outstanding best with an RPR of 125+ (adjusted for ease) for her three-and-a-quarter length victory over a field of overmatched middle-distance runners.
It shows the esteem in which she's held that 125 was a disappointing figure for her, but the same rating was animpressive step in the right direction for fellow Aussie, Rain Affair, who hit 125+ for his four-length win in the Group 2 Expressway Stakes at Rosehill on Saturday.
Rain Affair has won his last eight starts,nine from ten in total, and looks the next big thing in the Aussie sprint division, hot on the heels of the mighty mare, Hay List and Sepoy.
Black Caviar leads the world at this very early stage in 2012 with an RPR of 126+ for her Australia Stakes win in January.
Overall World Top Ten
| | | | |
| --- | --- | --- | --- |
| | Name (country trained) | Race | Rating |
| 1 | Black Caviar (Aus) | Australia Stakes | 126T |
| 2 | Ambitious Dragon (HK) | Stewards' Cup | 125T |
| | Rain Affair (Aus) | Expressway Stakes | 125T |
| 4 | Rulership (Jap) | American Jockey Club Cup | 124T |
| | To The Glory (Jap) | Shinshun Hai | 124T |
| 6 | Game On Dude (US) | San Antonio | 123D |
| | Smart Falcon (Jap) | Kawasaki Kinen | 123D |
| 8 | Musir (SAF) | Maktoum Challenge R1 | 122A |
| | Xtension (HK) | Stewards' Cup | 122T |
| 10 | Atomic Force (NZ) | Railway Stakes | 121T |
| | Eagle Regiment (HK) | Centenary Sprint Cup | 121T |
| | Ultimate Eagle (US) | Strub Stakes | 121D |