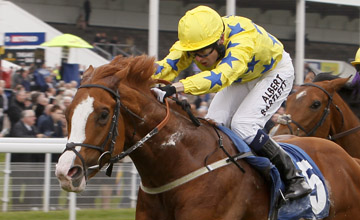 Jamie Spencer: winning on Pearl Secret for Sheikh Fahad at York
PICTURE:
Mark Cranham (racingpost.com/photos)
Spencer agrees two-year deal with Sheikh Fahad
JAMIE SPENCER has signed a two-year contract to ride as retained jockey for the Qatar Racing organisation it was confirmed on Friday.
Spencer's deal starts on January 1 with Qatar Racing, which is owned by Sheikh Fahad Al Thani and his two brothers, and will encompass Sheikh Fahad's runners under his own banner Pearl Bloodstock.
It has been rumoured all week that Spencer would join Harry Bentley as a retained rider for the quickly expanding set-up backed by the prominent new owner and the man behind the Qipco sponsorship, but on Friday he put pen to paper.
"We are delighted to have agreed terms with Jamie Spencer," said David Redvers, racing manager to Sheikh Fahad. "He was one of three riders Sheikh Fahad was particularly keen to sign up [for the position of retained rider] and he comes with a wealth of experience.
"Sheikh Fahad is looking to build a powerful team of competitive horses and a settled jockey in place riding is essential. Choosing a stable jockey was a difficult process but Jamie is one of the best around and he was eager to be part of this project."
On the impact the deal would have on existing retainers Spencer already has in place, Redvers added: "That is Jamie's business and you'd need to speak to him. Sheikh Fahad is keen for him to ride as much as possible when he doesn't have runners so he can stay fit and sharp.
"He is free to ride for anyone in any race Sheikh Fahad does not have a runner in and I imagine the scope is there for his retainer with Mr Hay and others to continue, though maybe in a slightly different guise."