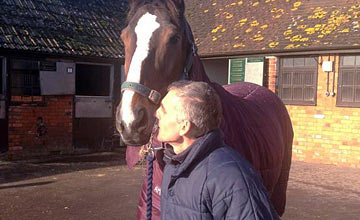 Paul Nicholls' head lad Clifford Baker gives Kauto Star a farewell kiss
PICTURE:
Niall Hannity
Tears and anger as Kauto Star makes exit
KAUTO STAR'S record-breaking association with Paul Nicholls' Ditcheat yard came to a premature and emotional end on Tuesday when the champion trainer bowed to "the inevitable" and joined his tearful staff in waving goodbye to the greatest jump racehorse of the modern era.
In stark contrast to Kauto Star's treasured status at Ditcheat, relations between Nicholls and owner Clive Smith have become increasingly strained and reached breaking point on Saturday when Smith announced he intended to relocate the dual Cheltenham Gold Cup and five-time King George VI Chase hero with a view to him training as a dressage horse with British squad member Laura Collett.
Just hours after Smith revealed at a Monday media lunch that Kauto Star would be departing his long-time Somerset base after Christmas, Nicholls consulted senior staff members and decided the time had come for the recently retired 12-year-old to leave his home of nearly nine years.
While some at Ditcheat were quick to express their anger at Smith's behaviour, Nicholls – who had hoped his champion could live in retirement at Ditcheat – yesterday sought to present a dignified front when speaking shortly after Kauto Star had been driven from the yard having previously joined the trainer's staff for a photograph at 12.15pm.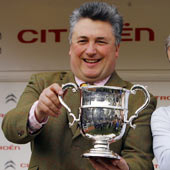 Paul Nicholls: "an extremely sad and upsetting day for everyone"
PICTURE:
Mark Cranham
In a Tweet, Nicholls wrote "good luck my friend, horse of a lifetime". Speaking to the Racing Post, he said: "Clive announced on Saturday that he had been speaking to experts, which we now know to have been Yogi Breisner and Laura Collett, about Kauto's future and he repeated those comments yesterday.
"Unfortunately, the people Clive hasn't consulted or asked for advice are the people who have been looking after Kauto for nearly nine years, namely Clifford Baker, Dan Skelton, Donna Blake, Rose Loxton and the whole of Team Ditcheat. The first most of them knew about Clive's plan was when he spoke on Saturday.
"We had a team meeting this morning and decided it was not fair on the people here who love Kauto so much to prolong the inevitable.
"As the owner, Clive has decided he wants Kauto to do dressage and live somewhere closer to his home in Surrey. As such, we knew we were out of the equation and that Clive did not want Kauto to stay with us at Ditcheat. Clive had made his decision, which is his entitlement. All we have done is hurry it up.
"I rang Clive and said I had no wish to fall out with him but told him I was sending Kauto to his new home today. I explained I did not want my team's distress to last any longer than it needed to and then I thanked Clive and wished him good luck.
"This has been an extremely sad and upsetting day for everyone at Ditcheat. Kauto is the most magnificent horse and everyone knows how much the team here loves him.
"This has been like losing a member of the family. It has been extremely upsetting. We would have loved to continue looking after Kauto but he is Clive's horse and he's made the decision he wanted to make, which is absolutely his right."
However, Smith, speaking in a statement released to the PA from New York on Tuesday night, spoke of being "extremely disappointed" in the reaction of Nicholls.
Clive Smith: "extremely disappointed' in Nicholls" reaction
PICTURE:
Mark Cranham
He said: "I was on the runway heading to New York when Paul dropped the bombshell.
"The idea originally came about after talking to Di Arbuthnot of Retraining of Racehorses and she put me in touch with Yogi Breisner. Two weeks ago I had a coffee and a chat with Yogi and he suggested dressage and I was very impressed with the idea. Not that either of us thought he'd shown any previous inclination, it was just something new.
"Paul Nicholls has made out he didn't know anything about it, but I've kept him informed since May.
"I agreed to put him back into training but we made the decision on October 31 to retire him. We agreed he could stay at the yard until Boxing Day, but at Sandown on Saturday I told him the dressage thing was coming about. I'm extremely disappointed in Paul Nicholls."