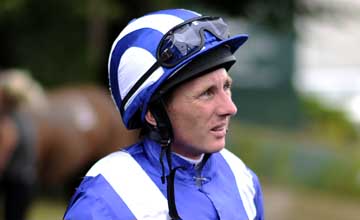 Paul Hanagan: did not suffer serious injury in Ascot fall
PICTURE:
Getty Images
Hanagan escapes Ascot fall with bad bruising
PAUL HANAGAN is expected to take a few days off to recover from his fall at Royal Ascot on Saturday, with an x-ray on his upper arm revealing that no bones were broken.
Hanagan suffered a nasty fall when his mount Ektihaam slipped on the bend in the Hardwicke stakes and he was stood down for the rest of the day and taken to hospital.
Hanagan's agent Richard Hale said on Sunday morning: "His x-ray last night came in clear, he's badly bruised, there's no long-term damage and he might need a few days off."