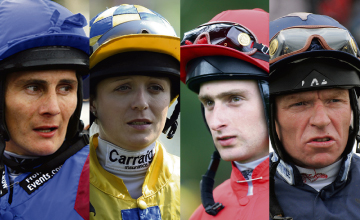 Banned jockeys: Paul Doe, Kirsty Milczarek, Greg Fairley, Jimmy Quinn
PICTURE:
Various
Four jockeys found guilty of corruption by BHA

JOCKEYS Paul Doe, Greg Fairley, Kirsty Milczarek and Jimmy Quinn have been banned for a combined total of over 26 years after being found in breach of the BHA's corruption rules.
Doe and Fairley, who were found guilty of committing the most serious offence of not riding a horse to its merits along with breaching two other rules, were banned for 12 years each. Both quit the saddle earlier this year.
Milczarek has been hit with a two-year ban for passing on information for reward and committing fraudulent or corrupt practice, while Quinn received a six-month ban for his part in the conspiracy.
The corruption case, which involved 13 people, two of which were found not guilty as the BHA published its findings on Wednesday, focused on ten races from January 17 to August 15, 2009.
Former owners Maurice Sines and James Crickmore were both warned off from the sport for 14 years after being found guilty of masterminding a network of jockeys and punters to lay horses owned by them on the betting exchanges.
Trainer Paul Fitzsimons, also a jockey at the time, was cleared along with Darren May, one of the six unlicensed individuals investigated.
Earlier in the day, Milczarek revealed that she was planning to appeal her verdict. Speaking at Lingfield after winning on her second ride, she told At The Races: "I've spoken to my solicitor a couple of times and we are going for an appeal and hopefully it will come my way because it's my job and I love doing what I'm doing.
"There's just a few issues and I was found guilty on one particular thing but it wasn't a ride which I'm quite relieved about."
Doe was found guilty of riding non-triers on two occasions, with Fairley one ride. Both were found guilty of passing on information for reward and corrupt or fraudulent practice.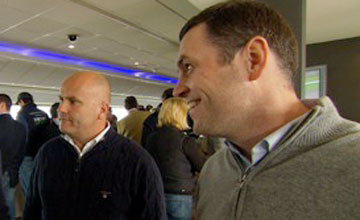 Former owners Maurice Sines (left) and James Crickmore were found guilty of masterminding a network of jockeys and punters to lay their horses
Five of the six other unlicensed people - Peter Gold, Nick Gold, Shaun Harris, David Kendrick and Liam Vasey - involved in the case were also found to be guilty of corrupt and fraudulent practice.
Vasey has been warned off for five years, Kendrick four, Harris three while the two Golds have had the decision regarding penalties adjourned pending further written submissions.
All penalties come into effect from Thursday, December 15 and all those found guilty have seven days to appeal against their bans but are excluded from the sport during that period.
Quinn's solicitor Rory Mac Neice said: "The BHA found that Jimmy had ridden both horses on their merits and went as far to say that he did not stop the horses and that if he had been asked to stop the horses he would not have done so anyway and Jimmy is pleased that this has been made clear to the outside world.
"In giving him a six-month ban they have given him the minimum amount open to them and that reflects the panel's view of him.
"Hewill serve the ban and he will be back at the end of the period."
Paul Scotney, BHA director of integrity services, compliance and licensing, said the investigation unearthed corruption on a scale and complexity unprecedented in the BHA's history.
He added: "The investigation uncovered a network through which Sines and Crickmore engaged in betting activity, in particular with two riders, Paul Doe and Greg Fairley, that impacted on seven of the ten races in question.
"We take no pleasure in uncovering such serious breaches of the rules of racing. However, the findings of the disciplinary panel vindicate the hard work of BHA's integrity and compliance teams. In the BHA's history, the scale and complexity of this case is unprecedented."