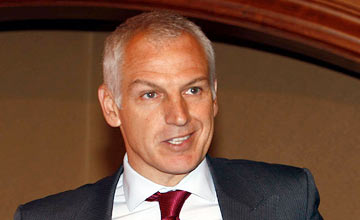 Paul Bittar: admitted BHA failings over Newmarket winner Improvisation
PICTURE:
Dan Abraham
Bittar admits BHA failing on Improvisation testing
BHA chief executive Paul Bittar admitted that it was "a failing on our part," that Improvisation was not tested following victory last month, before the three-year-old colt was subsequently revealed as one of the additional seven horses to test positive for anabolic steroids in the yard of former Godolphin trainer Mahmood Al Zarooni.
Improvisation won a maiden at Newmarket's Craven meeting - at the time when Al Zarooni was being investigated for doping - but was not subject to routine testing following the victory.
Along with last year's St Leger winner Encke and five other horses, Improvisation then returned positive for steroids when the BHA tested the whole of Zarooni's Moulton Paddocks string, taking the total number of horses to fail drug tests to 22.
Bittar, speaking on Channel 4's Morning Line on Saturday, said: "It was a failing on our part and the way this case has played out it won't happen again."
Quizzed by Nick Luck, Graham Cunningham and Jim McGrath, Bittar defended the decision to test only a sample of Al Zarooni's horses, which resulted in the disgraced trainer being given an eight-year-ban, rather than suspending him and carrying out a full investigation of the yard.
"We would argue knowing what we knew at the time we had to make a judgement call," Bittar said. "I'm very comfortable with that decision, to have left him in charge of the stable would not have been the right thing to do."
A shift in the balance of where testing takes place could come into play following the fallout of the case, with Bittar saying that at present around 85 per cent of testing is on course.
He added he was "not surprised" that more horses tested positive at Al Zarooni's yard and that it was good news that Saeed Bin Suroor's string had returned all clear.
Frankie Dettori's return to the saddle was also touched upon in the interview, with Bittar "hopeful" the jockey will make his return to the saddle next week at Epson's Derby meeting.