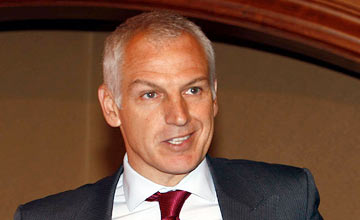 Paul Bittar: pleased with fixture-list advancements made for 2014
PICTURE:
Dan Abraham
BHA issues 'rebalanced' fixture list for 2014

THE BHA has published the 2014 fixture list which will include 1,464 meetings - the same level as this year.
Included in that total are the new Flat fixtures at Lingfield Park and Musselburgh on Good Friday.
Among the key points are:
>> 881 Flat and 583 jump fixtures (2013: 890 and 574 respectively)
>> Flat fixtures are made up of 585 turf fixtures and 296 all-weather fixtures (2013: 583 and 307)
>> Re-balancing of fixture list means that a ratio of fixtures of 40:40:20 will be delivered between Flat turf, jump and all-weather
>> By session there are 1,113 afternoon fixtures, 249 evening fixtures and 102 twilight fixtures (2013: 1,113, 253 and 98 respectively)
BHA chief executive Paul Bittar said: "The compilation of the fixture list is an evolving process, and despite some of the constraints under which we operate, we are pleased with the advancements made for 2014.
"In particular, enhancements to the racing calendar such as the exciting addition of Good Friday racing, improvements to our principal days and the boost to racing on Sundays will all serve to further improve British racing.
"These advancements could only be made with significant support from the sport's stakeholders and customers - racecourses, horsemen, bookmakers and broadcasters - as well as the Levy Board, who all deserve credit for their assistance and flexibility in the compilation of this list.
"Central to the fixture list is the need to balance the requirements of horsemen with the demands of our various customers, and to drive the best possible commercial returns to the sport while continuing to provide quality, competitive racing. The 2014 fixture list is built on these principles."
The BHA did however warn that courses that have not signed a prize-money agreement - Cartmel has become the latest to do so - or reached direct agreement with BHA on their prize-money contribution for 2014 by October 31 could have their BHA-controlled fixtures reallocated.
Bittar added: "The majority of racecourses have now signed prize-money agreements, which represents a positive step for the industry. We are today pleased to add Cartmel to this list. This partnership approach will serve the sport well and we look forward to welcoming more courses in the near future.
"We will shortly commence the groundwork for the 2015 fixture list and this will include more significant work on the long-term strategy for the fixture list as well as the overall viability of the fixture list in continuing challenging economic circumstances."