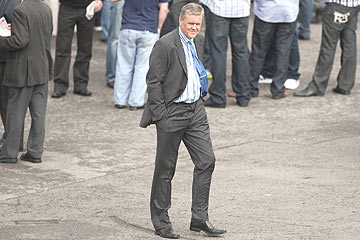 Paul Scotney joined the British Horseracing Authority in 2003
PICTURE:
Edward Whitaker (racingpost.com/photos)
Paul Scotney to leave the BHA by mutual consent
PAUL SCOTNEY, director of integrity services, compliance and licensing at the British Horseracing Authority, is to leave his post by mutual agreement.
Scotney, who has held the position since 2003, will leave his full-time role on December 14, but will continue to provide advice to the BHA on investigations and strategy as part of a transition plan.
The decision, which BHA chief executive Paul Bittar said was agreed mutually, is part of an ongoing restructure of the organisation led by Bittar.
Adam Brickell, who is currently the BHA's head of legal and compliance, will be promoted and appointed director of legal, integrity and risk. Brickell's appointment will be supported by other structural changes in the business to be announced.
"It is good news that in ensuring our commitment to integrity standards we will be able to call upon Paul's experience and expertise when needed," said Bittar. "At the same time we can support Paul in branching out to work in other sports and sectors, which is something we recognise he is keen to do after nearly ten years working exclusively in horseracing.
"Paul has put in place strong systems and built an excellent team. This is reflected in the fact we've got an internal candidate in Adam to promote and Paul leaves his full-time role with British racing far better equipped to deal with threats to the sport's integrity than it was on his arrival in 2003.
"A measure of the progress made under Paul was illustrated when an independent review carried out by Dame Elizabeth Neville in 2008 concluded that the BHA integrity department is 'a model for the effective investigation of corruption in sport'.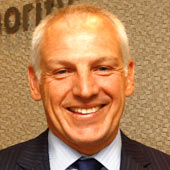 Paul Bittar conducted the review
PICTURE:
Dan Abraham/BHA
"One of my primary objectives has been to conduct a review of all aspects of the business to identify the most effective and efficient structure for the BHA given our broad role in the industry.
"However, this should be seen as a constant evolution of the business and the changes announced today are part of that - something Paul has contributed constructively to."
Scotney added: "I am sad to be leaving my full-time role but also excited at the prospect of working for clients outside of racing, while also retaining my links to the BHA. I am certainly proud of the progress that has been made during my time in racing.

"The links between racing and betting are more deeply ingrained than in other sports so it is only fitting that racing should lead the way in understanding better the threats posed as a result of sports betting. As an all-round sports fan, I am looking forward to putting that experience to wider use.

"I am delighted for Adam Brickell who deserves the opportunity to take on the running of the department. I enjoy working with him and look forward to continuing to assist where I can best contribute and where it best fits the needs of the business."
Brickell, 32, joined BHA on a client secondment in 2009 before becoming a permanent member of staff in January 2010 as legal affairs manager and company secretary.
He was subsequently promoted to head of legal and compliance, with responsibility for the BHA's entire legal function, including working closely with Scotney on the development and presentation of cases put before the disciplinary panel.
Brickell said: "I am looking forward to working with racing's stakeholders and participants to ensure the high standards of integrity within British racing are maintained and improved.
"It is my priority to ensure that the BHA provides a contemporary, efficient, and customer-focused service to the industry and, while significant progress has been made, there is never any room for complacency in relation to threats to the integrity of sport."
The departing Scotney recently oversaw the investigation which led to the removal of the corruptive influence of Maurice Sines and James Crickmore from the sport, alongside disqualifications for eight other individuals. Suspensions totalling 72 and a half years were imposed upon the ten individuals found to be in breach of the rules.
During his time with the BHA Scotney has provided advice and guidance to a number of other sports including tennis and football on how to tackle betting-related corruption in their sports. He has also spoken extensively on the subject including two appearances at the European Parliament.
Prior to his appointment he was a police officer for 27 years holding a variety of senior management positions within the Metropolitan Police, Cambridgeshire constabulary and Her Majesty's Inspector of Constabulary.
As a detective chief superintendent, Scotney was in charge of a number of investigations into serious crime including murder, drug trafficking and money laundering, specialising in intelligence development, informant handling, surveillance and covert operations.