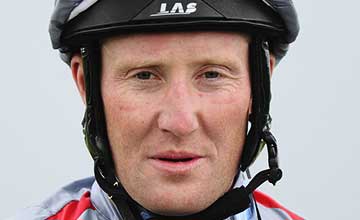 Pat Cosgrave: facing four-month ban for improper riding
PJA hits out as Cosgrave ban only reduced

PAT COSGRAVE'S six-month ban for improper riding imposed by the stewards in Dubai was on Monday reduced to four months on appeal, but PJA chief executive Paul Struthers labelled the decision "bitterly disappointing" and urged the BHA not to reciprocate the sanction.
Cosgrave was hit with the suspension after he was adjudged to have shifted his mount Anerobio in the Jebel Hatta at Meydan in March, allowing stablemate Vercingetorix a clear run to victory.
However, while the Emirates Racing Authority appeal board reduced the ban they dismissed the appeal, much to the frustration of Struthers.
In a statement, he launched an outspoken attack on the Emirates Racing Authority, questioning whether jockeys could be assured a fair hearing before its stewards and accusing the regulator of putting pressure on the BHA.
He said: "Despite the suspension being reduced by two months we are deeply disappointed with the decision of the Emirates Racing Authority's appeal board.
"This is an unfair and as yet unexplained decision and we believe the appeal board has seriously erred in its judgement. As a result we will today be lodging an application on behalf of Pat Cosgrave with the BHA requesting that they do not reciprocate the suspension.
"While we are well aware that Australasian stewarding is different in style to European stewarding, and that their rules are not always the same as ours, some of the behaviour and processes that we witnessed fell far below the standards one would expect from a fair and reasonable regulator.
"The result is that we have serious misgivings about the Rules and stewarding in Dubai and do not believe that jockeys can be assured of a fair hearing.
"Furthermore we are disappointed and concerned that there has already been an attempt to put pressure on the BHA in relation to this matter. We trust that the BHA will resist any further such attempts by the ERA."
If the BHA reciprocate the suspension, Cosgrave will be banned from riding until July 16.
As well as dismissing his appeal, the ERA decided the jockey forfeited his deposit of 1,500 dirhams (£242) and will have to bear the costs of the appeal panel members.
When handing down the original six-month ban, the stewards noted Cosgrave "looked back to his inside on at least three occasions and at the turn into the home straight he intentionally allowed his mount to shift out approximately three horses thereby allowing stablemate Vercingetorix a clear inside run".
The move provided the 2-1 favourite with a clear inside passage and he recorded a one-and-three-quarter length verdict over Vancouverite.