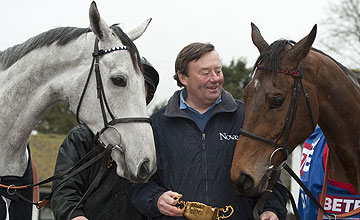 Nicky Henderson: was set to show off his stable stars at Friday's open day
PICTURE:
Edward Whitaker (racingpost.com/photos)
Weather leads to loss of the Lambourn open day

THE arctic weather that has caused widespread havoc across much of Britain claimed another racing casualty on Monday when Friday's Betfair Lambourn open day was cancelled.

It had been feared that after recent heavy rain, waterlogged car parks posed the biggest problem for a local institution that regularly attracts crowds of more than 8,000, but that was before the wind-chill factor saw temperatures plunge to as low as -14C on Sunday night.

Former trainer Mark Smyly, chairman of the organising committee, said: "The ground is rock-solid and we wouldn't be able to have the horse events. It's also expected to remain cold until Thursday and then there is a forecast of heavy rain or snow on Friday morning."

It's the third time the event, which has raised more than £500,000 for Lambourn Housing Trust, Thames Valley and Chiltern Air Ambulance and other charities, has been lost since the format was changed in 1990, and the fact insurance will cover the majority of the costs is of little consolation to Smyly.

He added: "We didn't want to leave it until the last minute to call it off and inconvenience people, and it wouldn't be much fun coming in weather like this.

"It's a great shame because we wanted to show off Lambourn, and we can't reschedule because Good Friday is the only date that works because on any other day of the year there are people going racing.

"It costs well over £50,000 to stage, but although we insure against having to cancel, we'll still end up several thousand pounds out of pocket."

Middleham's open day, also supported by Betfair, does go ahead on Friday on what will be its 20th anniversary.

Lesley Sweeting, one of the organisers, said: "We've coped with inclement weather in the past, and obviously we don't want people to compromise their safety by coming to visit us, but if they're able to do so we would love to see them for what will be a good day."