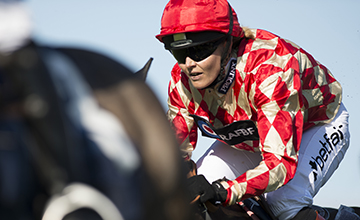 Victoria Pendleton aboard Mighty Mambo on her race-riding debut
PICTURE:
Edward Whitaker (racingpost.com/photos)
Pendleton makes solid start to Festival dream

VICTORIA PENDLETON, the double Olympic gold medallist, successfully negotiated the first step on her road to achieving her ultimate aim of riding at the Cheltenham Festival next year, as she rode in her first charity race at Newbury on Thursday.
Successful in the velodrome at London 2012, Pendleton partnered the Lawney Hill-trained Mighty Mambo over 1m5f, and while never dangerous, looked accomplished in the saddle, making some late headway from off the pace to finish in among the chasing pack in eighth.
The experience was enjoyed fully by Pendleton, who said post-race:"It was over too quickly. I wish I could do it again it was so much fun.
It's the most incredible feeling and nothing comes close to that moment you first gallop and canter a horse.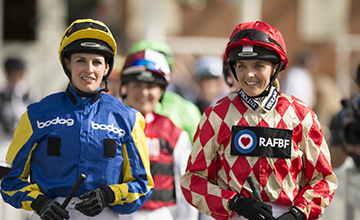 Victoria Pendleton (right) was all smiles before her first charity race
PICTURE:
Edward Whitaker (racingpost.com/photos)
"It's crazy to think how you have to rely on something else so much and it's a really interesting relationship. You've got to keep your cool to a whole new level because they know how you feel.
"I can't wait to ride out tomorrow - that's how sad I am."
It was in March that Pendleton, 34, announced her intention to switch careers and become an amateur jockey, with the help of Betfair. Four months later she tested herself in public against some seasoned amateurs and performed credibly.
Britain's most successful female Olympian has been riding out five times a week at Hill's Oxfordshire yard and has also received guidance from the likes of Yogi Breisner and former event rider Chris King, who was among the opposition in the Newbury race.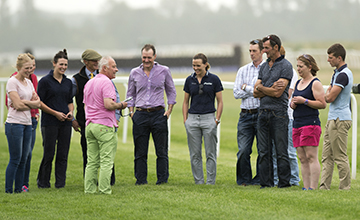 Victoria Pendleton (black shirt, centre) on the course before her ride
PICTURE:
Edward Whitaker (racingpost.com/photos)
Twitter impressed
Sky Sports News and At The Races presenter Alex Hammond, who also has experience of riding in charity races, tweeted her congratulations to Pendleton, saying: "Very respectable race-riding debut from Victoria Pendleton extremely stylish. What great progress in such a short period of time.
At The Races colleague Matt Chapman was also impressed, and tweeted: "Class at what she does. Victoria Pendleton is stylish in defeat. Held up, niggled, ran on nicely."