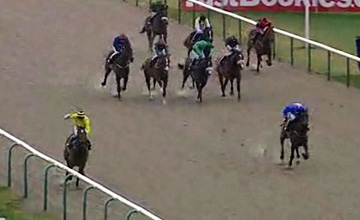 Nicky Mackay's ride on Stars In Your Eyes (left) led to a ten-day whip ban
PICTURE:
attheraces.com
Nicky Mackay withdraws whip ban appeal
NICKY MACKAY on Wednesday withdrew his appeal against last week's controversial decision of the Wolverhampton stewards to ban him for ten days for excessive use of the whip.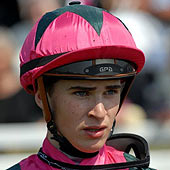 Nicky Mackay: ban reduced to four days following amendments by BHA
PICTURE:
Martin Lynch
Mackay's change of heart on the eve of Thursday's scheduled hearing followed the latest amendments to the whip rules announced by the BHA on Tuesday, which reduced his suspension to four days.
At Dunstall Park on February 13, Mackay received a five-day ban for hitting Stars In Your Eyes nine times - another hit was discounted by the stewards - exceeding his quota of seven strikes by two, but the penalty was doubled as it was his second offence within 12 months.
The rider claimed some of the strikes in the home straight should have been discounted as he was trying to prevent the four-year-old from hitting the rails, and trainer John Gosden branded the decision as "bordering on theabsurd".
Following this week's changes to the penalty structure, Mackay's now merits a four-day suspension and the multiplying element has been dropped.
Mackay, who has had his £500 deposit return bythe BHA, said: "Given that the penalty I was issued by the Wolverhampton stewards has been amended from ten days to four, and having spoken to (solicitor) Rory Mac Neice and John Gosden, I have decided not to go ahead with tomorrow's appeal.
"I still believe that I was harshly done by, and I didn't do anything wrong, but given the change to the penalty, I feel my chances of success have probably been reduced.
"Hopefully, the sensible changes announced by the BHA will mean another jockey doesn't find himself in the same position I did."