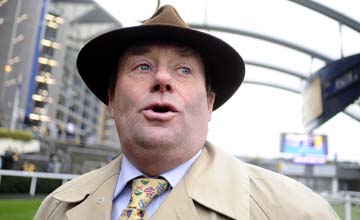 Nicky Henderson: denied reports his yard had been badly hit by a virus
PICTURE:
Getty
Henderson rejects
virus speculation

NICKY HENDERSON on Monday reported his major stars to be in good health as he played down newspaper speculation that his championship-winning stable has been badly affected by a virus.
Henderson could wait until Saturday before saddling his next runner but stressed that would be due to ground conditions. He also pointed to a number of fine performances from his string at the weekend, when he had two winners at Doncaster.
The trainer said: "Whereas normally you would see about 95 per cent of the tracheal washes coming back clean, at the moment we are getting about 80 per cent.
"My Tent [Or Yours] is fine, Bobs Worth is fine and Sprinter [Sacre] is going well.
"No trainer in this world will have 100 per cent of their horses right, especially when the weather has been horribly muggy and damp.
"There are a few who aren't quite spot on, but that's the case all year round."