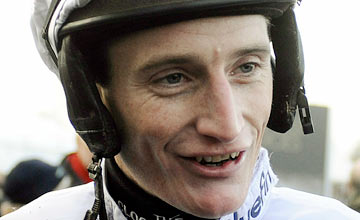 Daryl Jacob: will not ride four-time World Hurdle winner Big Buck's
PICTURE:
Getty Images
Nicholls reply may not serve to clear the air
Racing Post columnist Lee Mottershead thinks Paul Nicholls may regret some of the tone of his statement regarding the Big Buck's jockey decision
DOWN Ditcheat way Big Buck's is at the centre of a jockey dilemma. Deja vu anyone? In the 2008 Hennessy, Sam Thomas's unseating from the horse who would become the greatest long-distance hurdler was the straw that broke the camel's back.
Thomas, who had suffered a series of confidence-knocking reverses while standing in for the sidelined Ruby Walsh, lost the mount on Master Minded in the following week's Tingle Creek Chase, with Paul Nicholls using language that bore striking similarity to that employed with explosive effect yesterday.
Explaining the Master Minded move, Nicholls said at the time: "This takes the heat out of the situation and Sam seemed quite relieved when I told him. If he'd ridden Master Minded he would have been in a no-win situation. The pressure would have been almost unbearable."
Regarding Big Buck's, Nicholls utilised his Betfair column to claim the problem with Jacob was not a rider lacking confidence in himself but in his horse.
"It was as if he regarded the ride as being a no-win situation," wrote Nicholls, later adding: "It wouldn't surprise me if Daryl didn't feel a sense of relief at the news."
After this latest twist it would be a surprise if Jacob feels much relief. Nicholls is adamant Jacob could have ridden Big Buck's had he really wanted what most would see as a mouth-watering opportunity. After the trainer decided Jacob was not relishing the chance he offered it first to Ruby Walsh and Tony McCoy before choosing Sam Twiston-Davies.
His assessment of Jacob's mental state was succinct. "If there is any negativity or doubt in a jockey's mind," he says, "then he effectively rules himself out of the reckoning there and then."
The problem the union between Jacob and Nicholls now faces is clear. When Jacob reacted to the Twiston-Davies booking on Saturday he made a point of not bemoaning what had happened. He clearly attempted to sound as upbeat as possible.
In the public arena Jacob has said nothing wrong, but in that same arena he has had his mindset criticised at length by his boss, who has published for universal consumption what would normally be a confidential employee appraisal. That will surely leave Jacob feeling "negativity and doubt" but also seemingly a degree of anger given that in the comments he gave last night he twice chose not to refer to Nicholls by his first name.
Jacob, who shares the same agent, Chris Broad, with Twiston-Davies, is now in a situation akin to that of a husband or wife who has discovered their spouse is having an affair while making no secret of the fact. For this particular cuckolded sportsman, the most troubling aspect must be that the third member of the love triangle is a younger rival widely spoken about as a future champion.
Nicholls is plainly enamoured of Twiston-Davies and rightly so. His first priority as a trainer and businessman is not to his jockeys but to his horses and, by extension, their owners. He says in his statement "tough and difficult decisions have to be made in this game and I won't shy away from them". Nor should he. Nor should we do anything other than celebrate the fact Nicholls is so willing to be open in his public comments.
Sometimes, however, Nicholls has rued being too open for his own good. He has no desire to join the diplomatic corps, but he might on reflection regret some of the tone of the content in his statement.
Nicholls also points out Jacob is his "main jockey" not his "retained jockey" and that no rider will ever again partner all the yard's horses. That was an attempt to clear muddy waters; future riding arrangements will tell us how clear those waters now are.
Godolphin's move will reopen a can of worms
TO GODOLPHIN'S credit, the organisation did not seek to hide from unpleasant truths when announcing last week that Steeler and Artigiano would be coming out of enforced hibernation.
After a story on the Godolphin website that began by announcing some of their banned horses had returned to training, racing manager Simon Crisford was quoted as saying: "We decided recently to continue with some of the horses who did not race last year."
The phrasing of Crisford's comment shows Godolphin had felt allowing some of the 15 horses to resume racing did indeed require a decision and was not an open and shut case. The consensus view seems to have been it was a decision on which Godolphin came down on the wrong side.
As colleague Tony Smurthwaite pointed out in Tuesday's edition, veterinary evidence certainly does not state conclusively that animals given steroids gain benefit for no more than six months. Five of the nine horses involved in the Gerard Butler doping scandal went on to win races after serving their penalties, some of them showing much-improved form.
The BHA - which Sam Twiston-Davies noted on Saturday's The Morning Line handed out a 50 per cent more severe punishment to Mad Moose than any of the doped-up Godolphin horses - has repeated it is content with the six-month drug suspensions, but whether it will be pleased to see the likes of Certify and Encke back on British racecourses is another thing.
In terms of racing's PR, and indeed Godolphin's, permitting any of the horses with which Mahmood Al Zarooni sought to cheat represents bad news waiting to happen. Whenever they run, an unpleasant can of worms will be reopened, and if any of the horses win further questions are sure to be asked.
Sheikh Mohammed was not keen to answer Clare Balding's questions on the subject last year and Al Zarooni's successor Charlie Appleby - who has impressed as a thoroughly likeable, talented and decent individual since taking over at Moulton Paddocks - looked understandably awkward when the topic was raised after big-race wins in the summer.
Yet as the result of a move Godolphin did not have to make, those questions are now bound to be asked once again. That could be bad for Godolphin and, more importantly, bad for racing.
Patient Johnson and Moore are a pair of muddy marvels
IN TIMES of adversity we sometimes see the best in people. Over the last two weeks I can testify that to be the case.
Following Cheltenham's second race on a New Year's Day marred by atrocious weather, Richard Johnson returned after completing more than three and a quarter miles on Quinz. He was soaked to the skin, covered top to toe in mud and very possibly a little fed up.
Yet it was at this point, just as Johnson came within touching distance of some cover and warmth, that a photographer asked him to pose in the rain by the weighing room steps.
Johnson not only agreed but stood patiently as the snapper then asked the dripping jockey to stand in a variety of different positions while all the time he became ever more saturated.
Johnson may or may not ever succeed in his aim to be champion jockey but he merits some sort of medal, if only for the patience and good nature he showed. The photographer, meanwhile, should ask some of the top Flat riders if they would be equally co-operative on a day when the rain is pelting down.
I would like to be there when he does. On Monday I was there when Gary Moore ferried myself and the Racing Post's incomparable photographer Edward Whitaker around a yard whose all-weather gallop had twice in a fortnight been washed into a nearby river.
Moore, also recently stitched up after being "walked over" by a horse, is the ultimate grafter but, like Johnson, he also possesses a deal of patience and goodwill.
This was evident when Whitaker caught sight of a recently formed muddy lake and asked the trainer if he would arrange for second lot to be walked through the deep water - more than once. Moore obliged and did so again when Whitaker asked if he would squat down in the sodden gallop, which was more like quicksand.
"I did my hamstring yesterday, Edward," murmured a momentarily reluctant Moore, but an aching hamstring has never come between Whitaker and a photograph. Moore ended his short protest and duly conceded.
The pictures, not surprisingly, were superb.
Read Lee Mottershead's column every Monday in the Racing Post or download our award-winning iPad app