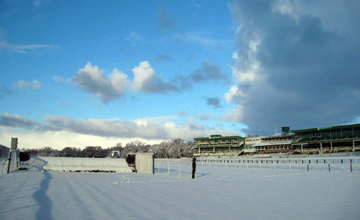 The meeting at Newcastle was abandoned on Saturday morning
PICTURE:
James Armstrong
Newcastle abandons but no issues at Chepstow
SATURDAY'S meeting at Newcastle, due to feature the Betfred Eider Chase, has been abandoned due to snow.
Clerk of the course James Armstrong had been worried that frost could cause the meeting some problems but it was unpredicted snow that cost the track one of its biggest racedays.
Armstrong said: "The snow probably started at about 2am in the morning and has been on and off since.
"We've covered nearly three-quarters of the track with fleece and even trying to get that off the course would have caused a major headache. It's balling up as you pull it up and then it tears.
"We could also get as much as two additional inches of snow through the day."
There was better news at Chepstow where a morning inspection was cancelled with no sign of frost. The going is good to soft, soft in places.
As a result of Newcastle's abandonment, Channel 4 will show three races from Lingfield (1.55, 2.30 and 3.05) in addition to four at Kempton.
Race times at Chepstow have been changed to 1.45, 2.20, 2.55, 3.30, 4.05, 4.40, 5.10.