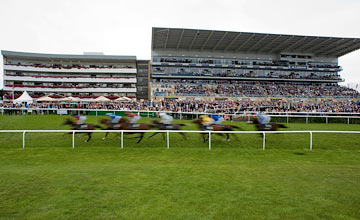 Doncaster: was able to race on Friday but snow is threatening Saturday
PICTURE:
Getty Images
Lincoln hinges on morning inspection
DONCASTER has already beaten the weather once but faces the prospect of having to do it again if the William Hill Lincoln is to take place on Saturday.
An inspection is due at 6am on Saturday and clerk of the course Roderick Duncan said on Friday night: "Looking at the forecast now, we have sleet coming in later on tonight.
"It's then forecast to turn to light snow until about 3am, when they are saying it could turn a bit heavier. I think by the time we inspect at 6am we should have some idea of where we are going."
Racing went ahead at Doncaster on Friday, and Duncan admitted: "At 6am this morning you wouldn't have thought we would have been racing as we had snow falling and it was starting to settle, but we didn't have enough to put a cover on the track and by 11am it had gone."
Ground conditions were officially soft, heavy in places and Duncan said: "The lads are saying it's no worse than I have called it. But even if we just get a light snowfall it is nearly bound to ease."
Newbury must also pass an inspection if racing is to go ahead on Saturday with a 7am inspection scheduled at the track.
On Friday night Newbury's clerk of the course Richard Osgood was fully expecting the track's closing jumps meeting of the season to pass the inspection.
Persistent rain left the course heavy for its fixture on Friday but, although further rain is forecast, hopes are high.
"I'm optimistic and I think we should be all right," said Osgood. "It really depends on how much rain we get. We are forecast 6mm to 8mm, and we ought to be able to cope with that. The jockeys have been saying today the track will take more rain, and if we get it early in the day the course will also have more chance to deal with it."
The only other meeting taking due to take place in Britain and Ireland on Saturday is Southwell after Bangor, Gowran, Kelso and Stratford were called off.