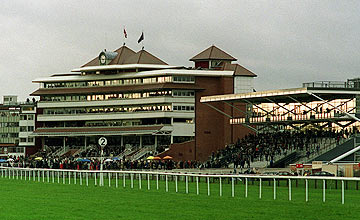 Newbury: called in police with riot shields after a mass brawl on Saturday
PICTURE:
Edward Whitaker (racingpost.com/photos)
Newbury erupts in chaos as football fans run riot

RACEGOERS at Newbury on Saturday described their horror at having found themselves in close proximity to a bloody fight between Welsh football supporters that became a significant police incident and caused the track to close its bars and led to three arrests.
Two individuals were arrested for affray while another was arrested for a public order offence. Police reported only minor injuries had been sustained.
Newbury, whose licence to sell alcohol has already been called into question after the racecourse was found guilty of five underage sales in 12 months, will now again have to defend itself to both the police and West Berkshire Council.
Violence erupted in the grandstand enclosure in-between the fourth and fifth races. Witnesses reported seeing members of two coach parties engaged in a serious brawl that led to at least seven police cars being dispatched to the track, where officers holding riot shields remained on duty for some time.
"It was a disgrace and I won't be coming again," said racegoer Julie Davis. "It took so long to get it sorted out. Every time you thought it had stopped it started again. I reckon there were at least 30 people involved. It was scary."
Another racegoer, Denise Mathias, said: "It just seemed to be a big fight between football supporters from Cardiff and Swansea. It was terrible. I saw a stocky man covered in blood having his head stamped on."
A man who preferred to be named only as Alec added: "I've never seen anything like it on a racecourse. Both groups had obviously had too much to drink and they decided to have a punch-up."
Stephen Higgins, Newbury's joint-managing director, said: "There was a disappointing incident of anti-social behaviour which was dealt with by the racecourse security team and local police. So far as we know, there are no serious injuries."
A Thames Valley police spokesman said: "We received a call at 4.03pm and worked with the security team at Newbury and the public bars were closed immediately. There were two arrests for affray and one for another public order offence.
"The incident seems to have been caused by the meeting of Swansea and Cardiff City football fans. There were some minor injuries as a result of the incident. There was one person taken to hospital by private ambulance but that was as a result of a heart attack and was not related to the incident."