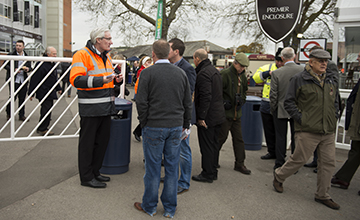 Newbury: security team talking to racegoers about dress code
PICTURE:
Edward Whitaker (racingpost.com/photos)
Newbury: furore is 'storm in a tea cup'

SENIOR management at Newbury racecourse on Friday afternoon defended the decision to implement a new dress code which has come in for criticism from a number of racegoers unaware of the change.
Having taken to Twitter on Thursday to apologise following a flurry of comments over the policing of the track's dress code, joint-managing director Stephen Higgins described the furore as "a storm in a tea cup" on Friday.
"We've been launching this softly for three months now, via the website, and various other channels, so we're not springing this on people all of a sudden," Higgins told the Racing Post.

"From our point of view this is a storm in a tea cup and I'd much rather you guys were talking about the quality racing and excellent prize-money on offer during these three days."
Higgins had previously described the official who asked a racegoer to unzip his jacket to check whether he was wearing a shirt as "over zealous" and despite promising that the security team would be briefed to make sure there was no repeat of the incident, the Racing Post learnt on Friday of numerous racegoers who were upset by the manner in which they were prevented from entering the Premier Enclosure.