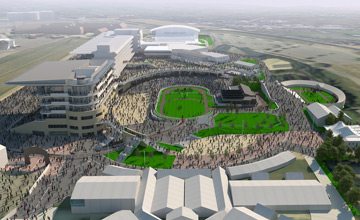 Concept shot of Cheltenham after £45 million redevelopment
PICTURE:
The Jockey Club
Jockey Club unveiled new Cheltenham stand
THE JOCKEY Club announced plans on Thursday for a £45 million redevelopment at Cheltenham racecourse, the group's largest ever investment in racecourse facilities.
The proposed development, subject to planning permission, will replace the 1920s A&R block which currently contains private boxes, with a new grandstand which will include new annual members' facilities, general public viewing areas, private boxes and Royal Box facilities.
If planning permission is achieved in time and the necessary finance is in place, the main development will begin immediately after the 2014 festival with a scheduled completion date before the 2016 festival.
During the construction period, Cheltenham said it would be able to continue staging its race programme as normal.
Jockey Club Racecourses managing director Paul Fisher said: "Cheltenham racecourse is not only one of the Jockey Club's crown jewels, we recognise it is the home of jump racing and one of the great theatres in British sport. It is vital we continue to invest in its appeal, the experience it offers and its success, for the good of British racing."