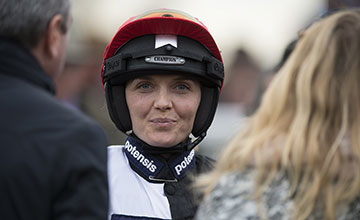 Pendleton posted a clear round at Higham point-to-point on Sunday
PICTURE:
Edward Whitaker
Pendleton to continue racing in point-to-points

VICTORIA PENDLETON has vowed to carry on point-to-pointing even if her Cheltenham dream does not materialise this year.
Just two days after unseating in the full glare of the public spotlight in her first hunter chase at Fakenham, the two-time Olympic gold medal winner competed at Higham in South Suffolk, where she reiterated her commitment to the sport.
Pendleton was in familiar surrounds for her tenth ride in point-to-points, having had two mounts at the track in January, and she posted a clear round on Minella Theatre, who was prominent early but faded to finish last of six finishers in the Ladies' Open.
Since her unseating at Fakenham several professionals have come out against Pendleton's mission to ride in the Foxhunter at Cheltenham, including jockeys' coach and former Champion Hurdle winner Steve Smith-Eccles and former champion jockey John Francome, who described the former cyclist as "an accident waiting to happen".
'I'd like to see anyone else get this far'
But Pendleton said yesterday: "If I'm not ready, I'm not ready. Ultimately there are a group of experts behind me and I will trust their judgement 100 per cent and if it's not meant to be this year then it's not meant to be.
"It makes no odds if I do it again another time and I'd like to see anyone else give it a go and get this far.
"Whatever happens I'll continue pointing as I really enjoy it and I even started designing my own silks the other day."
No tears after Fakenham unseat
Reflecting on her exit at the fence in front of the stands' at Fakenham and the subsequent media furore, she added: "I'm mightily disappointed with myself more than anything but it was just one of those things. I thought at first we'd collided in mid-air but it all happened so quickly. It's all part of the experience.
"I couldn't believe the amount of pictures there were in the papers from one second's worth of fall. Then there were others of me lying on the floor as I was only down for a few seconds and thinking did that really happen.
"Some of the headlines suggested it ended in tears but there weren't any from me."
Pendleton added: "There are a lot of armchair critics who have never sat on a horse but if you take a sports career you have to expect people to judge you - it's water off a duck's back.
"I always go by the one in five rule. That is one in five people will never like you but one in five may love you."
Read more on Victoria Pendleton's race to get to the Cheltenham Festival in Monday's Racing Post - available on the iPad from 8pm on Sunday.